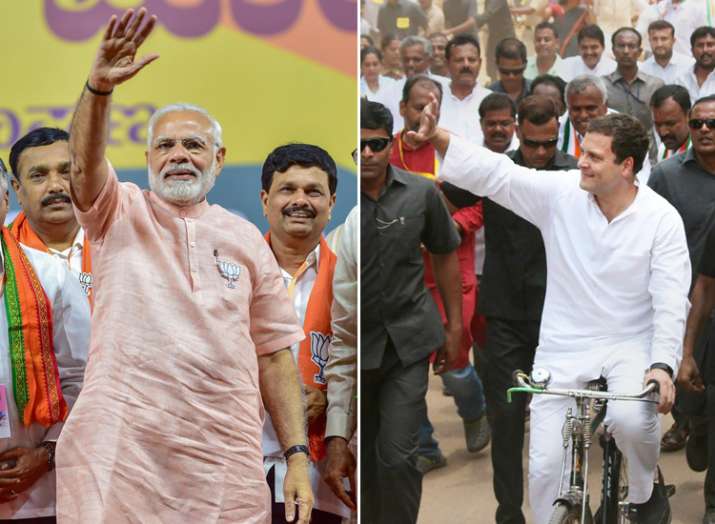 All eyes are on Karnataka as the stage is set for a fierce triangular contest in the assembly elections in the southern state, voting for which will take place on Saturday.
Tight security arrangements are in place with over 3.5 lakh personnel deployed across the state to ensure a free and fair poll. The ruling Congress and the BJP are the main contenders for power, while former prime minister H D Deve Gowda's JD(S) is likely to play the kingmaker.
There are more than 4.96 crore voters who are eligible to exercise their franchise to choose their representatives from a field of little over 2,600 candidates. Men account for over 2.52 crore voters, women around 2.44 crore, while there are 4,552 transgender electors. Election office sources said over 55,600 polling stations have been set up, and there would be some auxiliary booths too. Some polling stations in tribal areas will have ethnic look, sources said, adding government employees with disabilities will do duty at select polling stations for the first time. 
Quoting its sources, news agency PTI reported that for the first time, people would be able to know about the queue status at polling stations with large number of voters through a mobile app. 
According to the Election Commission data, Karnataka consists of 70 urban and 154 municipal Assembly constituencies. Bengaluru alone has nearly half of the urban constituencies (28), while the rest are spread across seven city corporations -- 43 city municipal councils (CMCs), 65 town municipal councils (TMCs) and 92 town panchayats (TPs). 
The result of Gujarat Assembly elections, held last year, showed that the BJP held strong ground in the urban areas, while the Congress garnered majority of votes from the rural segment. However, a similar pattern in voting is unlikely in Karnataka keeping in mind the results of the last two elections. The BJP, which came to power on its own for the first time in Karnataka in 2008 but lost to the Congress after five years in the May 2013 assembly election, hopes to make a foray into the south again ahead of the Lok Sabha polls. 
The party hopes to make up its possible losses in the north where it had peaked four years ago. In all, 2,654 candidates are in fray for the ensuing election on Saturday to elect the state's 15th Legislative Assembly. Of the total candidates in fray, including 219 women, 222 are from the ruling Congress, 223 from BJP, 201 from Janata Dal-Secular (JD-S), 1,155 Independents and 800 from other national, regional and fringe parties, according to the poll panel.
Karnataka Assembly Elections 2018: Polling to take place in 222 constituencies
Polling will be held in 222 constituencies of the 224 -member Assembly. The Election Commission had postponed elections to the Rajrajeshwari Nagar assembly seat in Karnataka in wake of the seizure of nearly 10,000 voter identity cards, while polling was countermanded in Jayanagara following the death of BJP candidate and sitting MLA B N Vijaykumar. Counting of votes will be taken up on May 15 and results will be declared the same day. Voting for the Karnataka assembly elections will commence on Saturday at 7 am and continue till 6 pm in the evening. 
After 'fake' voter ID row, Election Commission postpones RR Nagar polls to May 28
The polling on RR Nagar seat was postponed to May 28 after seizure of nearly 10,000 voter identity cards. In a surprise visit to a flat owned by a Manjula Nanjamuri, the election body found nearly 9,746 voter ID,  Five laptops and one printer along with over lakh slips resembling acknowledgement slips used for adding names into the electoral rolls. The election commission has filed an FIR in the matter.
Karnataka Assembly Elections 2018: Congress Vs BJP, will JDS be the kingmaker?
The Congress is aiming at retaining the only large state it rules after Punjab, while the BJP is striving to form its government in Karnataka, which party president Amit Shah said will be its "gateway to south", for a second time. No party in Karnataka has won a second successive term in office since 1985 when the Janata Dal under Ramakrishna Hegde had retained power. Many opinion polls suggest that JDS could play the kingmaker in case no party touches the magic mark. 
The BJP had ruled the state between 2008 and 2013, the only time it did so, but its tenure was marred by intra-party feuds and allegations of corruption. One of its three chief ministers and its current chief ministerial candidate B S Yeddyurappa was in jail over corruption charges. JD(S) state president H D Kumaraswamy has conceded it was a "battle for survival" for his party which has been out of power for a decade now. The Congress is, however, confident of breaking the jinx, with Chief Minister Siddaramaiah saying the party will create history. 
The Congress' main challenger BJP has spared no effort to ensure that history is repeated. Though the BJP launched its campaign, calling it "mission 150 (seats)", Shah said the party will win over 130 constituencies. Unlike in 2013, when the BJP split into factions with Yeddyurappa forming KJP and B Sriramulu of Ballari floating BSR Congress, they are all united this time. 
Prime Minister Narendra Modi undertook an adrenaline-charged campaign for the BJP, while Congress president Rahul Gandhi helmed his party's electoral offensive. 
On day one of his campaign, Modi raked up the issue of Sonia's foreign origin at an election rally where he dared the Congress chief to speak for 15 minutes about the achievements of the Karnataka government in any language, including his "mother's mother tongue". 
An emotional Rahul Gandhi hit back saying ,"My mother is an Italian. She has lived the larger part of her life in India. She is more Indian than many, many Indians I have seen." 
Modi repeatedly addressed the Siddaramaiah ministry as "seedha rupaiah government (a government that takes bribes for work) and "10 per cent commission government". 
Provoked, Siddaramaiah first called the Modi dispensation a "90 per cent commission government" and then served legal notices to Modi and Shah, demanding an apology and threatening to file Rs 100 crore civil and criminal defamation suit if they did not tender it. 
What do opinion polls suggest?
India TV's Final Opinion Poll says that the Congress will win 96 seats, BJP on 85 and the JD(S) will win over 38 seats – the expected kingmaker on the D-Day. With no party touching the magic mark in the opinion poll, Karnataka is likely to throw a hung assembly.
Here is what different opinion polls have their say on the Karnataka Assembly election results: 
# VMR Opinion Poll on Karnataka
BJP: 89
Congress: 91
JD(S): 40
Others: 4
# Karvi Opinion Poll on Karnataka
BJP: 82
Congress: 96
JD(S): 38
Others: 8
# CSDS Opinion Poll on Karnataka
BJP: 84
Congress: 97
JD(S): 37
Others: 04
# C-Four Opinion Poll on Karnataka
BJP: 68
Congress: 123
JD(S): 32
Others: 04
# Suvarna Opinion Poll on Karnataka
BJP: 102
Congress: 72
JD(S): 44
Others: 04
WATCH VIDEO: