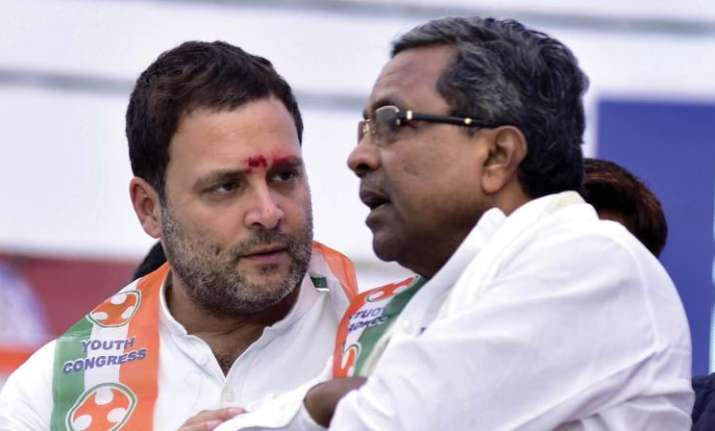 Hours after the Congress came out with its list of 218 candidates, several sitting legislators and aspirants raised voices of dissent over the 'unfair distribution of tickets' for the upcoming state assembly elections.
Several discontented leaders threatened to resign from the primary membership of the party, and many trained guns on chief minister Siddaramaiah, who led his way in selection of candidates, with most party hoppers getting tickets, upsetting several others. 
Party workers took to the streets in parts of the state to protest the selection of candidates, alleging nepotism as Congress has retained 103 of its 122 candidates instead of giving preference to new faces. 
As several of the party hoppers, who have got tickets, have had connection with JDS, Siddaramaiah's former party, it reportedly irked long-time party loyalists and veterans.
Supporters of former excise minister Manohar Tahsildhar, who currently represents Hangal, staged a protest over denial of party ticket to their leader. Incumbent Jagalur MLA H P Rajesh rushed to Bengaluru late Sunday night to meet chief minister Siddaramaiah, after his name failed to figure on the list.
Senior Congress leader K Rahman Khan said that Siddaramaiah gave more importance to those who came from his former party, Janata Dal (Secular), in regards to the ticket distribution. 
"It's a reality of our party. Our Chief Minister, along with others, came from JD(S) and so he gives more importance to them. It seems he has no attachment to the old leaders and cadres (of Congress)," he said. 
The remark came after Congress workers vandalised the party office in Mandya to protest against the distribution of tickets for the upcoming elections. 
"Discontentment is usual but it is the party's responsibility to make selection based on some norms, but this time it seems they have bypassed these norms," Khan remarked.
On Saturday, senior leader P Ramesh, who had unsuccessfully contested from CV Raman Nagar in Bengaluru in the 2013 election, announced his decision to contest from the same seat as a JD(S) candidate. "This is not Indira Gandhi's Congress. This is Siddaramaiah's Tughlaq Congress," he alleged.
Issuing tickets to party hoppers, including seven rebel JDS MLAs and controversial businessman of Bangalore-Mysore Infrastructure Corridor project Ashok Kheny, was reported to be a thorny issue while selecting candidates, with Siddaramaiah said to be standing strongly in their favour.
The chief minister is also said to have had his way in getting tickets to Anand Singh and B Nagendra in Ballari district.
The two, who are allegedly involved in the illegal mining case, had joined the Congress, ahead of elections.
While Singh was earlier in the BJP, Nagendra was an independent MLA.
B R Patil, Satish Sail, Mankala Subba Vaidy, G Manjunath, S N Subba Reddy and Anil Kumar are among the other recent entrants to Congress who have got the tickets.
Meanwhile, the party tried to do some kind of balancing act by not acceding to Siddaramaiah's reported wish to contest from two seats, Chamundeshwari in Mysuru and Badami in Bagalkote district of north Karnataka. 
Siddaramaiah's reported wish to contest from two seats is said to have met with stiff opposition from both Kharge and Moily.
The two leaders is said to have stated that it would send wrong message to voters in Mysuru region and would further consolidate Vokkaliga votes in favor of the JDS.
Badami with strong Kuruba presence, the community to which Siddaramaiah belongs, was seen as second safe option for the Chief Minister as reports have suggested that the battle in Chamundeshwari will not be an easy one for him.
The Chief Minister will now be contesting from Chamundeshwari alone, from where he has won five times and tasted defeat twice.
He was representing Varuna Mysuru constituency which has now been allotted to his son Yatindra.
Among the interesting aspects that mark Congress' list include at least five father-son/daughter combinations together getting ticket.
They include Siddaramaiah and his son Yatindra, Home Minister Ramalinga Reddy and his daughter Soumya, veteran leader Shamanuru Shivashankarappa and his son Mallikarjun, Housing Minister Krishnappa and son Priya Krishna, and Law Minister T B Jayachandra and son Santosh Jayachandra.
Other than this, children of several prominent party leaders like Mallikarjuna Kharge's son Priyank Kharge and K H Muniyappa's daughter Roopa Shashidar have also made it to the list.
Among 218 candidates in the list, Kagodu Thimmappa and Shamanuru Shivashankarappa are octogenarians, while at least 15 are women candidates.
While most sitting MLAs have retained their seats other than a few exceptions, at least 12 MLAs have been dropped.
Congress sets up cell to quell revolt within party
On Monday, Karnataka's ruling Congress set up a special cell to quell the revolt brewing in the party from several leaders and workers whose names did not appear in the list of candidates. 
"We have set up cell headed by state unit President G. Parameshwara to pacify the members and aspirants who could not be selected to contest in the assembly poll for multiple reasons," party's state vice-president K E Radhakrishna said.
Admitting that the party was facing rebellion in at least six constituencies from sitting legislators and ticket aspirants, he said the cell would soon meet them and explain why they could not be selected to contest this time.
"Once we finalise names for the remaining 5-6 constituencies in the next 2-3 days, we will call all those who could not make it to the list as there have been many aspirants for every assembly segment," Radhakrishna said.
The party has fielded 42 Lingayats, 39 Vokkaligas, 52 Other Backward Classes, 35 Scheduled Castes, 17 Scheduled Tribes for the reserved constituencies, 15 Muslims, 7 Brahmins, 6 Reddy Lingayts and two each from Jain and Christian communities.
Among the selected candidates, 24 are in the age group of 25-40, 49 between 41-50 years, 72 in the 51-60 years, 66 in the 61-70 years and 7 in the above 70 age group.