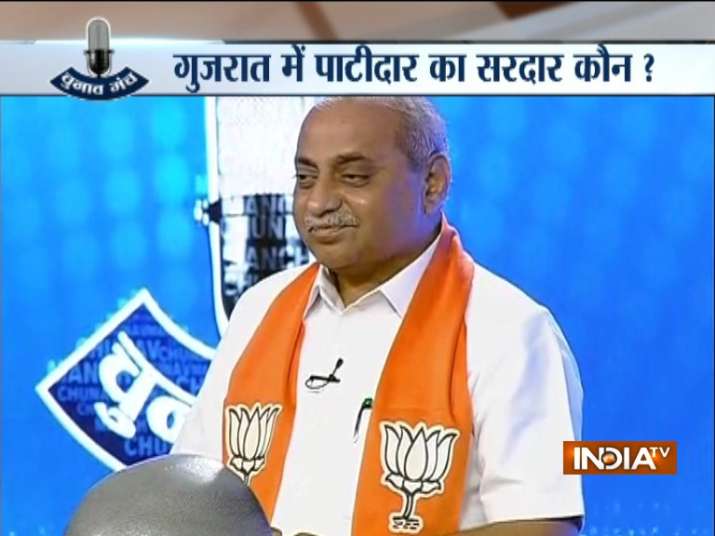 Gujarat's Deputy Chief Minister Nitin Patel today termed PAAS leader Hardik Patel an 'ignorant child', who needed to be reined in if he decides to run amok. The BJP leader was participating in a panel discussion on India TV's mega conclave 'Chunav Manch' in Ahmedabad ahead of the crucial Assembly elections in the state.
"Hardik (Patel) is a 22-year-old ignorant kid. It is okay as long as such a child remains peacefully inside the house. But when he starts talking about burning down the house, he cannot be allowed to have a free run," Patel said in response to a question from the audience on his recent outburst against the Patidar leader.  
Patel was accompanied on stage by Congress leader Arjun Modhwadia who targeted the 22-year rule of BJP in the state. Crediting the Congress for Gujarat's development, Modhwadia said it was his party that carried out major infrastructure and developmental works in the state while the BJP only undertook yatras.
"All universities, schools, hospitals and airports that you see around the state were all built during Congress rule. The BJP has only carried out yatras," Modhwadia said.
Nitin Patel, however, countered Modhwadia's charge and said that if indeed what the Congress was claiming was true, why had the people of Gujarat deprived the party from coming to power in the last 22 years?
He also charged Hardik Patel of acting at the behest of the Congress and behaving like a Congress agent.
Modhwadia, however, led the charge against the BJP government and said that young leaders like Hardik Patel, Alpesh Thakore and Jignesh Mevani were a manifestation of the people's anger against the misrule of the BJP.
"It is the people's anger that has turned youngsters like Hardik Patel, Jignesh Mevani and Alpesh Thakore into leaders. People are fed up of this government," Modhwadi said.
Modhwadia also slammed the BJP government on the demonetisation and GST decisions saying it had rendered lakhs of people jobless. "Over 60,000 small scale industries had to wind up in Gujarat under BJP's rule," said Modhwadia.
He also took on the state government for 'splurging' Rs 30,000 crore of taxpayer money on the Tata Nano factory, which was now churning out single digit units as a result of falling demand.
Countering the charge, Nitin Patel said that the Congress should get it facts right. "Gujarat govt has provided Tata Nano a subsidy of Rs 550 crore only, not Rs 30,000 crore as claimed by Congress and Rahul Gandhi," said Nitin Patel, adding that loans and subsidies to Nano were based on the number of units it produced in the state.
Modhwadia then targetted the BJP over controversy surrounding Amit Shah's son Jay Shah and questioned how his firm managed to significantly increase its turnover since the BJP came to power. He also alleged that his firm received significant loans under Narendra Modi's tenure at the Centre.
Nitin Patel, however, turned down the allegations saying there was no evidence against the BJP chief's son.
"From this very stage, Amit Shah had said that the Congress should present proof to back its allegations in court. I say this today that the Congress has failed to present a single piece of evidence against Jay Shah in court," Patel said.
Full Coverage: India TV Chunav manch on Gujarat Elections 
Watch the full video here: