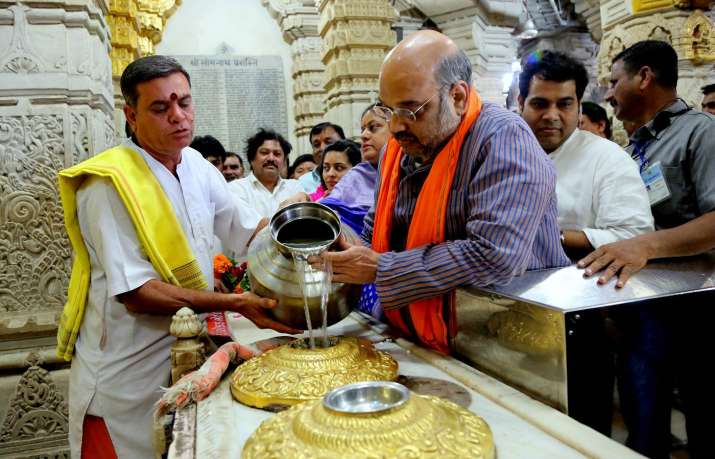 A day after the Bharatiya Janata Party (BJP) registered an emphatic win in the Uttar Pradesh municipal elections, BJP party chief Amit Shah on Saturday offered prayers at the famous Somnath temple in Gujarat's Gir.
PM Narendra Modi's closest confidant Amit Shah, who is also a trustee in the Somnath temple, is a regular visitor of the temple.
The BJP president's temple visit comes days before 182-member Gujarat Assembly goes to polls on December 9 and December 14. Counting of votes is scheduled to take place on December 18.
#Gujarat: BJP President Amit Shah offered prayers at Somnath temple in Prabhas Patan. pic.twitter.com/KD4ftil0s1

— ANI (@ANI) December 2, 2017
Recently, a major controversy erupted over Congress vice-president Rahul Gandhi's visit to the same temple in Gujarat, wherein his name was allegedly listed as a non-Hindu visitor in the visitor-book. It started when party's media coordinator Manoj Tyagi allegedly entered names of the Gandhi scion and Congress MP Ahmed Patel in the special register for non-Hindus visiting the temple.
The Somnath temple, first among the 12 jyotirlingas of lord Shiva, is visited by lakhs of devotees every year.
WATCH VIDEO: