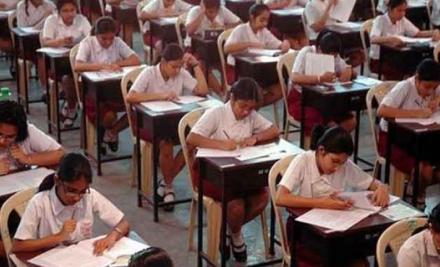 The Council for the Indian School Certificate Examinations (CISCE) on Wednesday released the class 10 and 12 Board exams date sheets on its official website www.cisce.org.
As per schedule, the class 10 ICSE exams will begin on February 26 while the exams of ISC class 10 students will begin on February 7. 
However, the Council has also said that the dates may change on the basis of the declaration of dates by the Chief Election Commissioner of India for the States due for Assembly Elections. 
As per the new guidelines, the minimum marks required to pass the Class 10 exam would change from 35 per cent to 33 per cent from this year. 
HERE'S THE FULL SCHEDULE:  
ICSE Exam Time Table
February 26: English Paper 1
February 27: Mathematics
February 28: Commercial Studies (Group II Elective)
March 5 : English Paper 2
March 7: History & Civics- HCG Paper 1
March 9 : Second Languages, Modern Foreign Languages
March 10: Art Paper 1
March 12 : Geography-HCG Paper 2
March 14: Hindi
March 16: Physics- Science Paper 1
March 17: Art Paper 2
March 19: Chemistry- Science Paper 2
March 21: Economics (Group II Elective)
March 23: Group III Elective
March 24: Art Paper 3
March 26: Biology-Science Paper 3
March 27: Art Paper 4, French/ German (Group II Elective)
March 28: Environmental Science (Group II Elective)
ISC Exam Time Table
February 7: Physics Paper 2 (Practical)
February 8: Computer Science Paper 2 (Practical)
February 9: Chemistry Paper 2 (Practical)
February 10: Home Science, Indian Music, Western Music Paper 2 (Practical)
February 12 : Physical Education Paper 1 (theory)
February 13 : Biology Paper 2 (practical)
February 15: Accounts paper 1 (theory)
February 17: Home Science Paper 2 (Practical)
February 20: Physics Paper 1 (theory)
February 21: Sociology
February 22: Biotechnology, Fashion Designing Paper 2 (Practical)
February 23: Computer Science Paper 1 (theory)
February 24: Indian Music, Western Music, Home Science Paper 1 (theory)
February 26: Mathematics
February 27: Art Paper 2
February 28 : English paper 2
March 5 : Chemistry Paper 1 (theory)
March 6 : Political Science
March 7: English paper 1 
March 8 : Fashion Designing Paper 1 (theory)
March 9: Geography Paper 1 (theory)
March 10: Art Paper 1, Geometrical and Building Drawing, Geometrical and Mechanical Drawing
March 12: Commerce, Electricity & Electronics
March 13: Art Paper 4
March 14: Biotechnology Paper 1(theory), Elective English
March 15: Environmental Science Paper 1 (theory)
March 16: Indian Languages, modern foreign languages, classical languages
March 17: Art Paper 3
March 19: Economics
March 20: Art Paper 5
March 21: Biology Paper 1 (theory)
March 26: History
March 28: Business Studies
April 2: Psychology