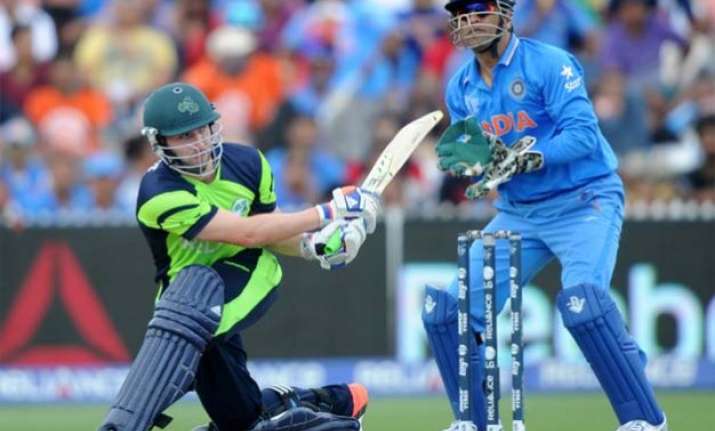 Mahendra Singh Dhoni has always managed to grab the eye balls for his unique style of playing, splendid personality and not to forget his behind the wicket comments.
As a captain and a wicketkeeper, we have always heard him pass on something valuable to his players by his amazing comments standing behind the wicket, which are quite funny on occasions and sarcastic as well.
Today, as he was wicket keeping in the match against Ireland, the  cool captain seemed like an immense leader on the field.
His position behind the wickets, gives him the best tactical view of the ground, how the batsman is preparing for the next short and most importantly the weakness of the bowlers.
Having seen his fast bowlers leak runs at the start, MS Dhoni brought his spinners to the game and squeeze the flow of runs, pressuring the batsmen into giving away their wickets. As he was right at the stumps, we got to hear all the hilarious remarks he passed on from behind the stumps today.
Take a look.
1.  "Aage se marne de"
Translation: Let him hit from the front.
2. "Halka peeche reh sakta hai Jinx (Ajinkya), ye dheere nahi khelta"
Translation: You can stand a bit behind Jinx (Ajinkya), he doesn't nudge the ball softly.
3.  Rayudu jaag ke zara. Uske paer kaise hil raha ai dekh kar thoda anticipate kar, volleyball ki tara khada hua hai beach pe.
Translation: Rayudu wake up, look at his feet and how he moves them, anticipate where he will hit, don't stand there like you're playing volleyball on the beach.
4. Shami thoda peeche hoja
Translation:  Shami, get back
5. "Ye upar se dekh raha hai. Halka upar rehna, tere paas aa sakta hai"
Translation: He's trying to hit it over the top. Be ready, he can hit it towards you.