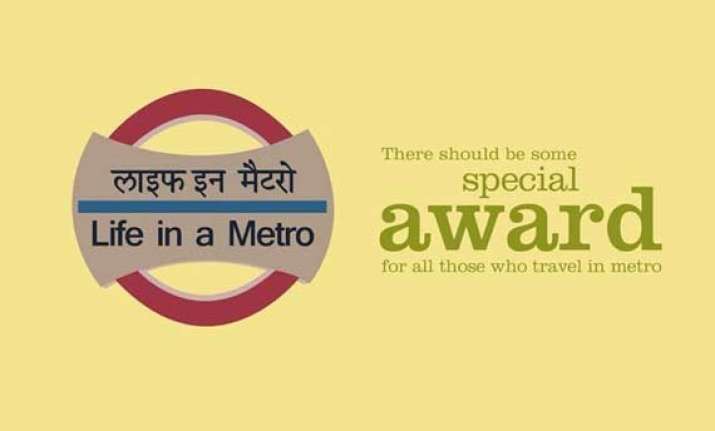 A successful metro ride is rather a matter of pride especially in India!
There were gladiators in Rome, and now there are Metro travelers in Delhi. This comparison might not go down well with some of our readers, but a metro ride by no means is an easy job, it needs true courage.
 
Our salute goes out to all those brave hearts successfully traveling in a Delhi metro. In fact it has been truly said by an anonymous writer whom we would like to keep anonymous that, 'if you want to test a man's character, send him to Delhi metro'.
Jokes apart, take a look at these hilarious images depicting an apt Delhi metro ride:
 
Photo courtesy: Shopatplaces.com
 
 
Getting in to a metro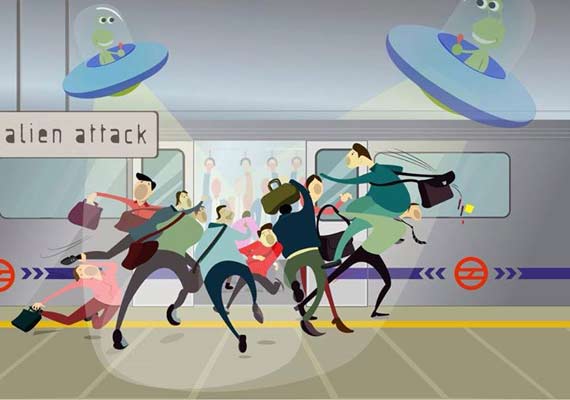 We have often seen that before the arrival of metro, people silently stand in queue but as soon as it arrives, all the queue etiquettes go for a toss. Commuters just want to hustle their way into the metro.
 
 
 
Seat grabbers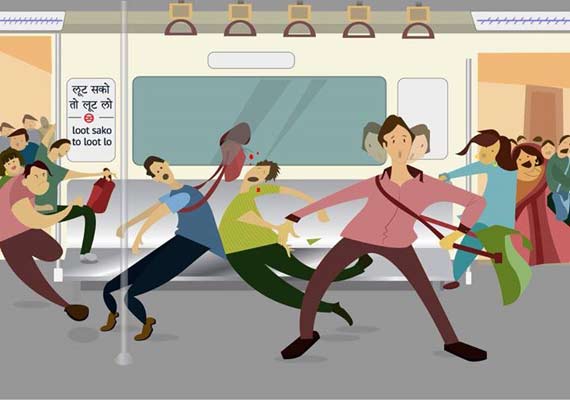 Now this one needs no less force and one ought to eat healthy to survive this trial. For a naïve newcomer it's a nightmare as he might be trampled upon if he gets in the way of a professional seat looter.
 
For beginners you just keep your eye on the seat before entering the metro.
 
 
 
Not knowing C of chivalry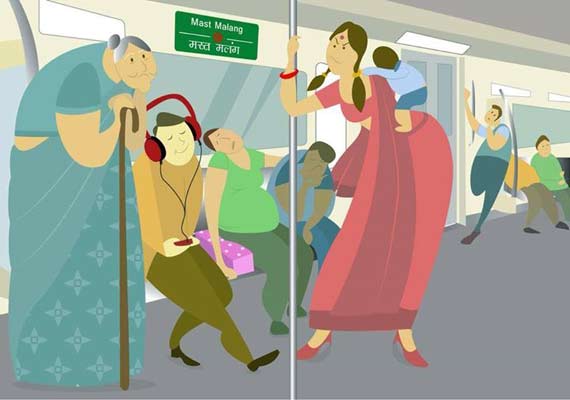 This one is for those meatheads who are not only indifferent, but they are unable to understand why they would give their seat to a woman carrying a baby. If the ladies are not bold enough to ask then these fools will not notice their presence.
 
 
 
Sneak a peek types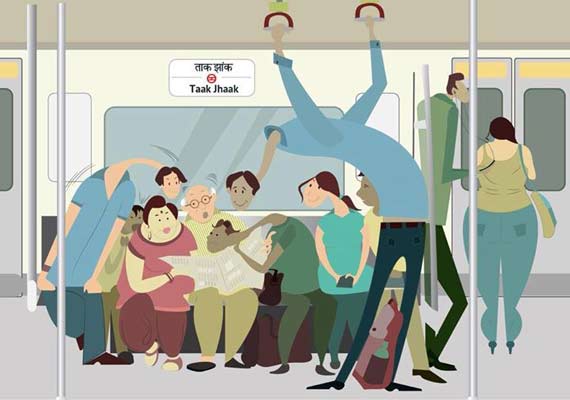 Now we often come across people who don't believe in minding their own business. They would just peek in, for such curious lots we have only one suggestion- had you been that curious in your studies, you would have done much better.
 
 
 
 
The Agitators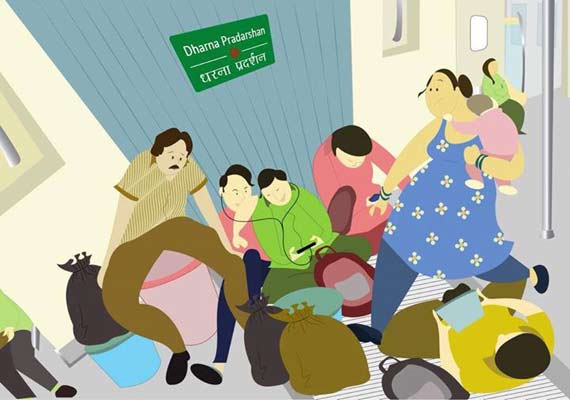 These people are the ones who will sit on the floor no matter how inconvenient it is for the fellow commuters. They turn a deaf ear to the metro announcements and encircle the place, as if they will start some sit in protest or may be they consider it as a picnic spot.
 
 
 
 
The Hungry ones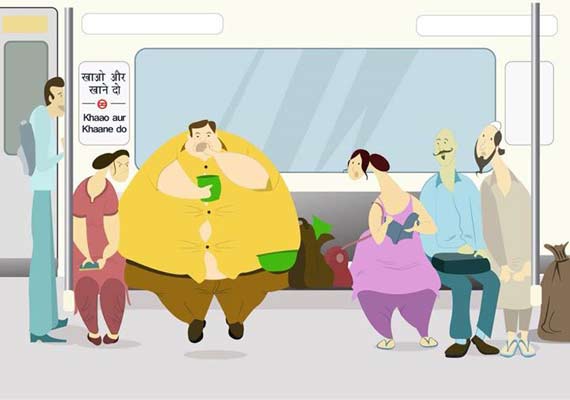 These people are the malnourished ones; sorry over nourished ones who keep munching anything from snacks to fruits and in the process they splurge it around thus contributing to the #SwachhBharat Mission.
 
 
 
We stare because we care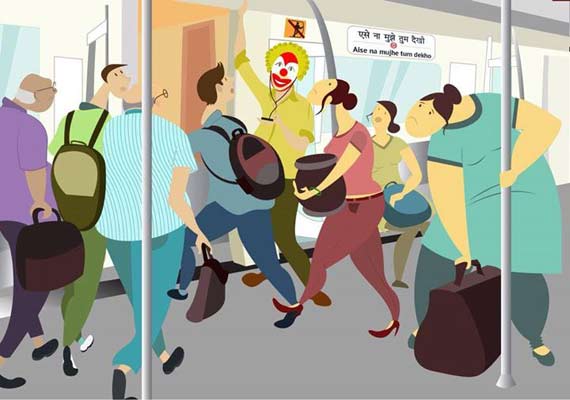 Now, if some foreigner ends up in our metro or may be a girl with some western outfit. Some of the bright guys starts ogling at them, as if she is an alien or might be they haven't come across anything as such in their entire life, but it definitely makes her feel totally out of place.
 
 
The Love bees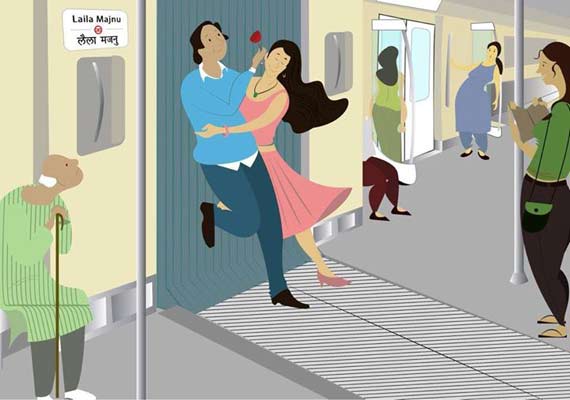 There is no dearth of lovers occupying the corner space of a metro; in fact love is always in the air of Delhi metro. Well we are not against Public Display of Affection, but it often becomes a wholesome entertainment for the commuters.
 
 
The show stoppers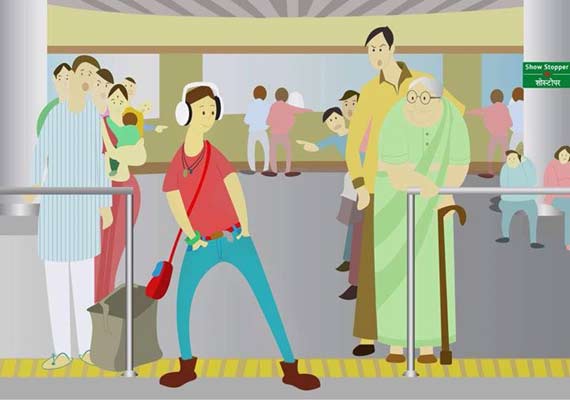 These are the people who are unaffected by their surrounding, but for them rules are just something for the mortal beings as they consider themselves above law.
 
 
The superman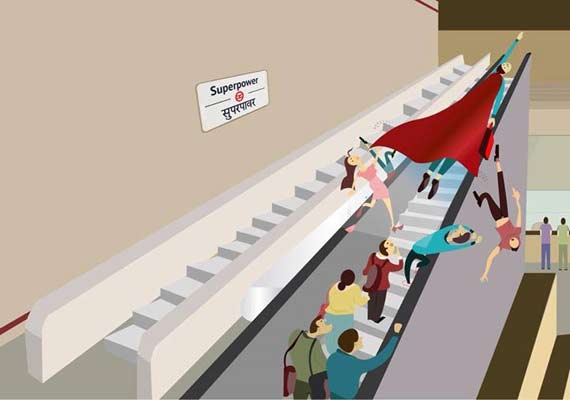 Such people think that they are the only ones who are in a hurry they rush through escalator with such escape velocity that it makes us think, do they really need metro because with such speed they can reach their destination in a blink of the eye.
 
 
The rat race
 

If you think that your problem will end after boarding the metro than you are living in the fools paradise, as coming out of it is no less than a struggle. It is no less than a  race so you have to brace yourself for this and you will not have a referee to say on your marks, get set go you have to do it yourself after the door opens.