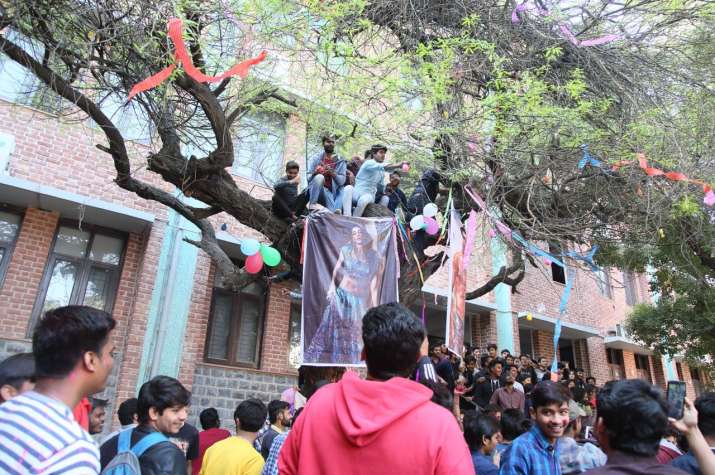 Valentine's Day might be celebrated throughout the world with fervour, but it is a completely different (and crazy) deal when it comes to Delhi University's Hindu College. Every year on Valentine's Day, Hindu College hostel students shortlist a 'hot' Bollywood female actor, and worship her as the Damdami Mai next to the condom-adorned Virgin Tree. This, in hopes to increase their chances of scoring a date, finding their perfect partner, and well, not remaining a virgin anymore. This year though, the celebrations just seem to be getting bigger. Not only did  the celebrations have actor Jacqueline Fernandez as Damdami Mai, but also actor Ranveer Singh as Love Guru— a new introduction to the Pooja for the 'hopeful' women devotees attending the pooja.ernandez, Ranveer Singh this Valentine's Day 2018.
"The virgin tree had grown old, but it still stands errect, virginity is a state of mind. It was really nice releiving my college days, the students gave me lot of love , this is the place where i learned about life, it was a pay back time for me. The students have requested a screening of ' my virgin diary' at the hostel, and they are taking neccessary permissions for that. it will be my dream to watch the movie with them", Nalini Singh director of Virgin Diaries said.
According to the ritual followed by students, which students say has been there since college's inception, students who worship the "virgin tree" is bound to fall in love within next six months and lose their virginity in the next one year.
President of the hosteliers in Hindu College, Lalit Singh confirmed that Jacqueline was finalised by the students after she was shortlisted along with Fernandez, Nargis Fakhri and Aditi Rao Hydari.