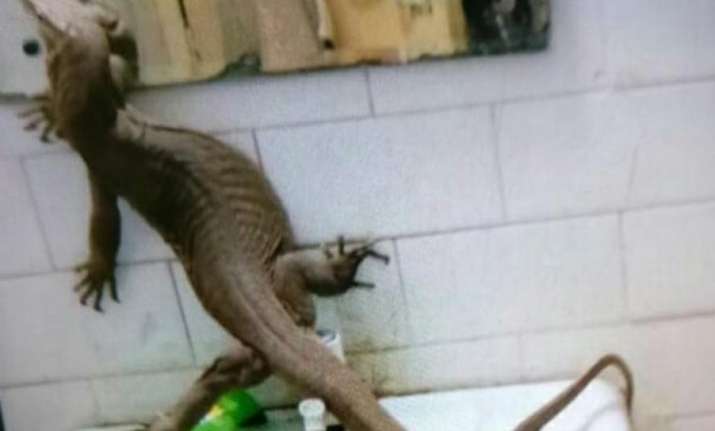 In a shocking incident, a huge monitor lizard was found inside girls' hostel at Netaji Subhas Institute of Technology (NSIT) in Dwarka on May 16. The lizard was reportedly locked inside the bathroom until the expert help came to the rescue and took it away.
Meanwhile, hostel girls protected themselves against the lizard by taking some precautions. The girls stayed indoor out of fear that the mega lizard may enter their rooms anytime, reports say.
The lizard was found in one of the third-floor rooms of Girls' Hostel-1. "The lizard was found around 11.30 am on May 16 on the third floor. A severe storm the night before had probablybrought the reptile to the building's terrace," a member of The Alliance told NDTV.
A picture of the gigantic reptile was shared on Facebook by NSIT's in-house newspaper, The Alliance.
"It eventually ended up in the washroom of the same room and the occupants managed to lock it inside the washroom," The Alliance employee told the leading daily. 
Administrative authorities were informed about the unwelcome visitor and hostel inmates were asked to stay in their rooms till wildlife personnel arrived. The lizard was drugged and taken away from the hostel.
The Alliance employee told the daily that this is the first time a lizard like this has been spotted on campus, though sightings of snakes are not uncommon as the NSIT campus is located in a wooded area.
Monitor lizards are venomous, and though their bites are not fatal to humans, they are definitely painful and can lead to illnesses.