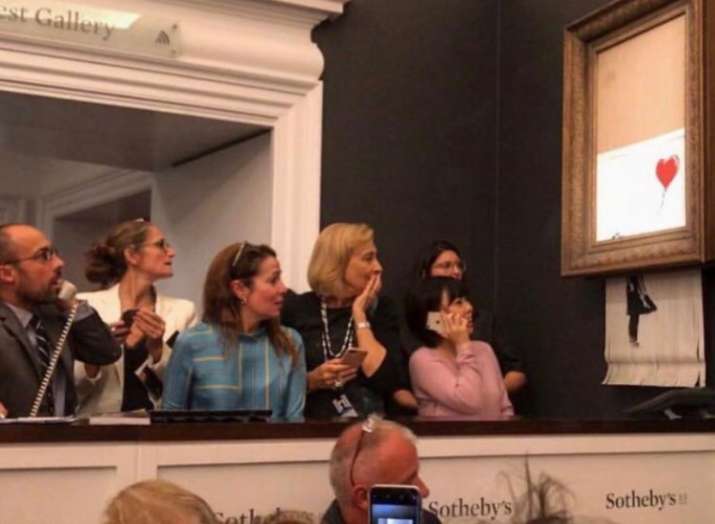 How would you feel if you bought something that costs you a fortune and it gets destroyed even before you have even felt it in your arms? You would be shattered, right? Something similar happened at London's noted auction houses, Sotheby's where a stencil spray painting of Banksy's most iconic images 'Girl With Red Balloon' was up for sale. The painting was undoubtedly gorgeous but moments after it was sold for more than a whopping £1 million, it shredded itself and got destroyed.
The 2006 artwork, which shows a girl reaching towards a heart-shaped balloon sold for £1.042m on Friday night, the BBC reported. But the moment it self-destroyed, people present in the room were shocked to their soul. While some were still not able to believe what they saw, others applauded the street-artist Banksy for its creativity and brilliance. 
Watch the painting here-
The video felt everyone on Twitter in a frenzy and earned a lot of attention. Many were left puzzled as to how the artist executed the prank and stunned everyone. Bansky finally revealed the secret behind it and quoted Picasso while doing it. He said, "The urge to destroy is also a creative urge."
Banksy shared the video of the procedure that was involved in shredding the 2006 artwork. He revealed that he 'secretly built a shredder into the painting'. The short clip shows a hooded individual giving final touches to the prank.
Watch the video here-
For latest stories breaking the internet, check out our BUZZ section!