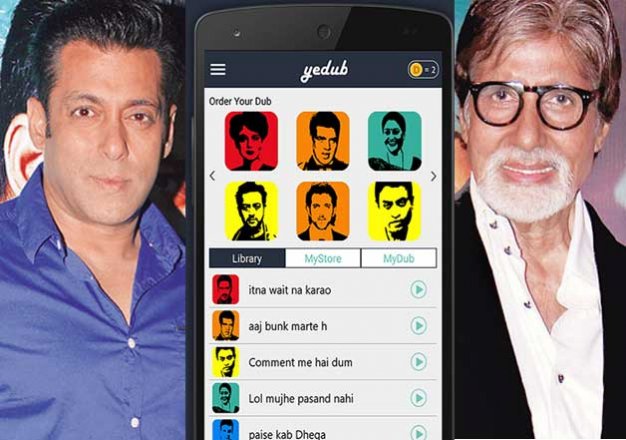 New Delhi: We all have our favourite stars from Bollywood and we love to adore them and repeat their famous dialogues. But what if megastar Amitabh Bachchan or King Khan Shahrukh Khan or Dabaang Salman Khan said your dialogues?
No we are not talking in the air; there is an app which can fulfil your wish - YeDub App.  It is India's first application where you can say your dialogue in your favorite star voice.
Yedub avails you an exclusive dialogue library which consists of dialogues as per your mood ranging from funny, emotional, romantic, party, desi, daily drama, angry, bheja fry, filmi, birthday wish, festival and new trends.
You also have the choice to select the dialogue of your preferable language ranging from Punjabi, English, Hindi, Marathi, Malyalam, Telegu, Gujrati, Tamil and many more.
Currently you can choose from the star voices of Amitabh Bachchan, Salman Khan, Shahrukh Khan, Ranbir Kapoor, Anil Kapoor, Sunny Deol, Dharmendra, Ajay Devgan, Paresh Rawal, Nasserudin Shah, Irfan Khan, Akhsay, Pran, Ashok Kumar, Johnny Lever, Om Puri, Shahtrugan Sinha, Sunny leone, Kangna and many other famous bollywood celebrities.
You can dub your dialogues in the voice of any of these stars. So, what are you waiting for? Download the app from Google Play store and enjoy.