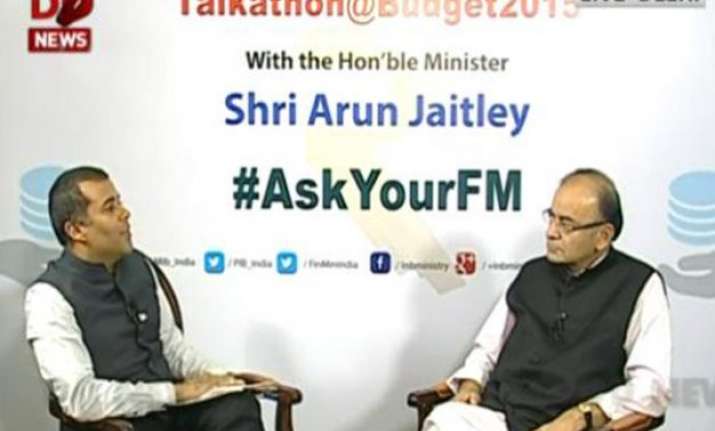 Going in on the footsteps of Indian PM Narendra Modi our Finance Minister Arun Jaitley, in an attempt to connect with the citizens of the country, featured in YouTube talkathon organized by the Ministry of Information and Broadcasting today at 6 pm.
This first of its kind initiative was moderated by Chetan Bhagat where FinMin Jaitley answered the queries of the countrymen regarding the Budget 2015-16 presented in Parliament, earlier in the day.
MIB invited the people to ask their questions on #Budget2015 from FM by tweeting with the hashtag #AskYourFM.  People from around the country tweeted their queries throughout the day out of which few questions were chosen to be answered by the Finance Minister.
Here are few of them:
Q1. Why are you making NREGA a bigger disaster by allocating more funds to it?

Arun Jaitley: MNREGA is not a disaster, but the way Congress was running it.
This scheme is necessary for rural development as rural wages and incomes have not increased. Those opposing Land Ordinance are opposing rural infrastructure.


Q2. There is no mention of one rank one pension in your budget. What are your plans about it??

Arun Jaitley: We are committed to One-Rank-One Pension.

Q3. How this budget boost the young Entrepreneur business?

Arun Jaitley: Have created a special bank for unfunded section, i.e. MUDRA Bank.

Q4. Why is GAAR implementation differed? Isn't this right time to plug tax leakages thro tax avoidance?

Arun Jaitley: General rules of avoidance have been redefined globally. We need to establish our credibility on taxation matters.


Q5. How does this gold monetization work for individuals?

Arun Jaitley: Raw gold is a dead asset as far as the country is concerned. We want to unblock it. Instead of physical gold, you can buy gold bonds.  Let's now have Indian gold coins with Ashok Chakra on it!