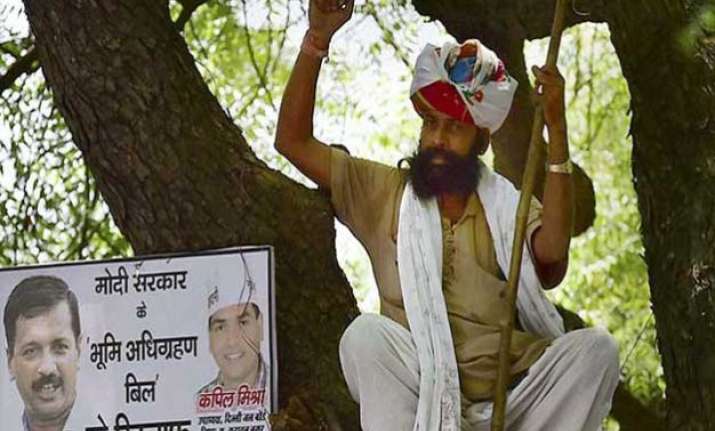 The unfortunate incident of a farmer committing suicide during AAP's Kisan rally at Jantar Mantar has brought the common man's blood to boil.
While political parties have started the blame game, people on social media are slamming Delhi CM and AAP convener Arvind Kejriwal for farmer's suicide.
With hundreds of tweets and pictures pouring in every minute, the hashtag #AAPKilledFarmer is trending on No. 2 on twitter.
Some are calling the incident a political stunt from the AAP party while others are lashing out at the Delhi CM for his sheer insensitivity of continuing with the speech after the farmer had died.
Noticeably, AAP continued with the rally and speeches as farmer hanged himself from the tree in front of their eyes. There was not a single effort from 10K AAP volunteers present there to save farmer's life.
After the farmer died, Arvind Kejriwal and party put the blame on the Central government controlled police for not taking action on time. Furthermore, the party said CM was not supposed to climb the tree.
Such a reply from AAP has left the people furious which can be clearly seen from the thier response on the micro blogging site twitter.
Take a look at some tweets:
1. Option for Arvind Kejriwal?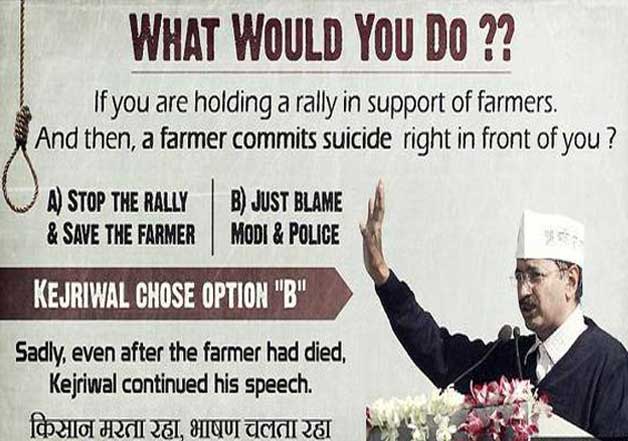 2. Staged drama went wrong

3. AAP's poll promise

4. Why Kejriwal didn't stop?

5. Not a farmer rally but political stage