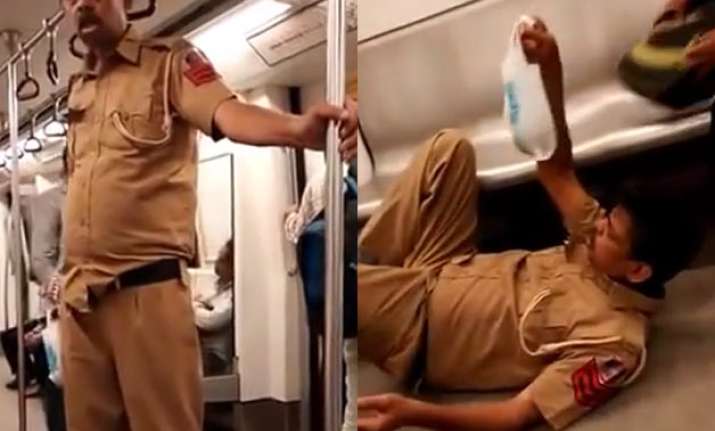 New Delhi: In this era of social media, almost everything becomes news instantly. While the benefits of social media are undeniable, few have faced the brunt of the ugly side of it. Salim P K, a 50-year-old head constable with Delhi Police, unfortunately made it to this list.
In August last year, a viral video of a drunk cop (Salim) in Delhi metro went viral. The video showed a stumbling Salim finding it difficult to take a grip and eventually falling down. The viral video fetched over two lakh views in a day.
Sadly, the truth is far from what was reported. Salim was not drunk but was suffering from a stroke. Around three years ago, Salim had suffered a major stroke and a block in the brain, leading to brain haemorrhage. The left side of his body was paralysed post this. The dizzy and disoriented state in which he was filmed in the metro, was due to his acute health issues.
Salim's case started a primetime debate about the safety of commuters in the Metro. His image took a downside spiral, his wife suffered a stroke when she learnt of his 'tarnished' image on social media and he was suspended from his duties.
On further probe by the Delhi police, he was reinstated in the service. Salim's dignified work earned him a clean chit by the then Police commissioner B S Bassi.
But Salim seems very disturbed with the entire episode. He has approached the Supreme Court to plead to the Delhi government, Police Commissioner, Delhi Metro Rail Corporation, and the Press Council of India so that they can present the actual events as they happened and "help him regain his lost dignity."
"When the video went viral and Salim was suspended, it made front page news. When he was taken back, not a single newspaper or TV channel carried it. In the eyes of the general public, the petitioner was drunk in the metro and he is still under suspension,"
Salim's lawyer Will Mathews was quoted as saying.
Currently, Salim is residing in his native state of Kerala. He is on a medical leave and suffers from speech impediment.
The other side of this viral story points to the dark side of social media and exposes the judgemental behaviour of netizens. Maybe, it is time we introspect before jumping to conclusions.