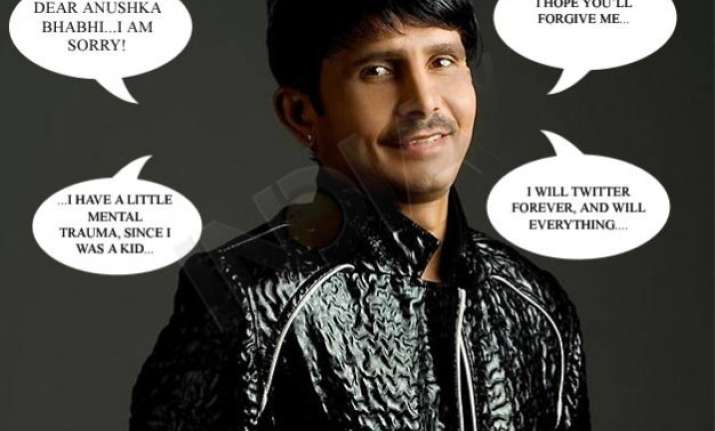 OMG! Kamaal R Khan apologises to Anushka Sharma on Twitter, here's the letter (read)
In one of most shocking updates from the gallery of Kamaal R Khan's fans is that their godfather is finally repenting on this recent past
mistakes
.
Going by a letter that was posted on Twitter by Being Indian, the above mentioned Indian dude (calling him an actor would hurt the sentiments of common man) has reportedly apologised to Bollywood actress Anushka Sharma for his Tweets against her.
Leading those who set off negative brigade against Anushka Sharma after Team India's World Cup loss, was Kamaal R Khan didn't bother to give Twitter a rest from his pesky tweets.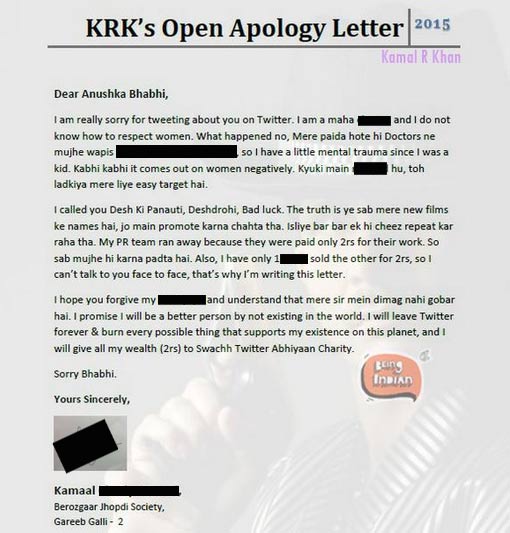 Kamaal R Khan, a self-claimed 2Rs individual (associating him with Bollywood, might not do good to our Karma) had tweeted some harsh things towards Anushka after Team India lost World Cup semi-final to Australia:
@kamaalrkhan: Thanks to both of you for ditching 130Cr Indians today.
@kamaalrkhan: Ppl I predicted tat India will win World Cup but I said if Anushka Sharma will not go to Australia.Now my prediction null n void coz of her.
@kamaalrkhan: I request to public to boycott Anushka Sharma's films. He is real #DESHDROHI whoever will watch her film anymore. #AUSvIND
@kamaalrkhan: Anushka Sharma was not in Australia so Indian won all the matches n today she is in Australia so Allah Hi Raham Kare. #AUSvsIND #ICCWorldCup
Guess, this sincere apology letter would keep reminding him what he must refrain from tweeting such stuff!
Read the unedited version of letter here!