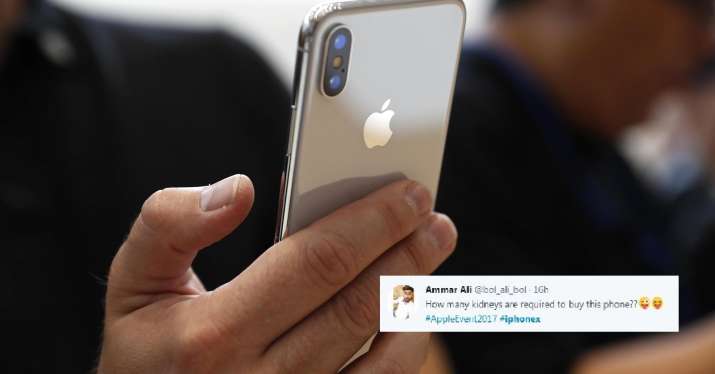 Apple's highly anticipated tenth anniversary model iPhone X is finally official now. After a series of rumours and leaks, the company finally unveils the new iPhone X, which is the most happening update to the iPhone line-up as yet. At the Steve Jobs Theatre in Cupertino, the Apple team showcased the iPhone X's super-happening model with abundant brand new features including bezel-less design, Face ID, TrueTone OLED display and wireless charging. You can own these amazing features of iPhone X at an amount of $999 which converts to Rs. 64,000 in India. Just as the flagship model of iPhone line-up was launched, Twitter erupted with side-splitting trolls and memes, which were even interesting than the complete launch itself. 
Let's have a look at them, cause we all deserve a good dose of laughter, isn't it? 
iPhone X has been launched at a price Rs. 4,000 more than the iPhone 7 starting price. This left majority of iPhone junkies in disappointment. 
Don't give her your #iPhoneX... pic.twitter.com/MZ0YI3ysV6

— ANEESD (@aneesdadabhay) September 14, 2017
◾5 reasons why I don't want to buy #iphonex

1:
2:
3:
4:
5: bhuut महँगा hai yr, mere aukat k bahar hai😐

— dipanshu yadav (@itsdipudude) September 13, 2017
#iPhoneX has face recognition so theses girls aren't gonna be able to unlock their phones when they take their makeup off

— S (@yesmesalman) September 14, 2017
True! Why it didn't pop in our mind? 
So...that means....my girl can hold my phone up to my face and unlock it when I'm sleeping now? #iPhoneX pic.twitter.com/nEamQmN4ga

— joey ⚜️ (@thejoeyway) September 14, 2017
Just as usual, people are proposing to sell their kidney to purchase the new iPhone X. 
How many kidneys are required to buy this phone??😜😝#AppleEvent2017 #iphonex pic.twitter.com/afD46IiFqw

— Ammar Ali 🇵🇰 (@ali_bol_naa) September 13, 2017
choose a payment method for your #iphone8 or #iphoneX. pic.twitter.com/kEdQq1OGD3

— OG BOBBY JOHNSON (@eseletwits) September 13, 2017
Even popular Indian comedy group, AIB roasted the enormous price of iPhone X with a meme. 
Some people had better ideas to do with $999! 
Don't buy an #iphoneX for $999. Buy a ticket to Bali, Indonesia instead. pic.twitter.com/kbYbTOcTIs

— ToolToulTo (@RdotHakim) September 14, 2017
Girls with heavy makeup might face some serious problems- courtesy, trolls! 
*Girls with make up*
IPhone X :- Unlocks

*Girls without make up*
Iphone X :- Face not recognized #AppleEvent #iPhoneX

— SAGAR (@ImSagar__) September 13, 2017
Reaction after seeing iPhone X price
Poor people like me after knowing new iPhones price😀 #AppleEvent  #iPhoneX #iPhone8 pic.twitter.com/IYUh8uzsiW

— mrappiegaming (@MrAppieGaming) September 13, 2017
It's time to buy iPhone....... 6s! 
#iPhoneX Has just now launched
Now I'll finally be able to afford an iPhone.
.
.
.
.
iPhone 6S!

— Maaz Ul Haq 🇵🇰 (@Maazulhaq17) September 13, 2017
Even though you're not going to buy iPhone X, these memes are LOL-worthy!