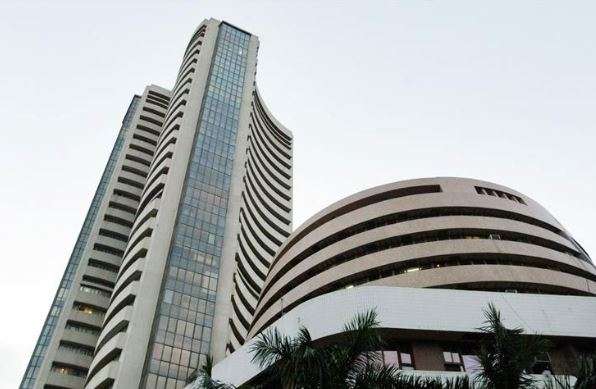 The Sensex on Thursday reclaimed 36,000-mark after jumping over 450 points while Nifty gained over 100 points to finish at 10,858.70
The Indian rupee also strengthened to Rs 69.88 per US dollar from its previous close of 70.62.
The Sensex gained 453.46 points to finish at 36,170.41, 1.27% up from its previous close of 35,716.95.The Sensex touched an intra-day high of 36,253.85 and a low of 35,946.24.
The Nifty50 gained 129.85 points or 1.21 per cent to finish at 10,858.70.
India's key equity indices jumped, their fourth straight session of gains, amid expectations the US Federal Reserve would slow its pace of interest rate increases.
Doubts about the Fed's future tightening also spurred the domestic currency, with the rupee vaulting 74 paise so far on Thursday's trade. 
The financials, which led the gains, were up over 1.5 per cent while selling pressure was witnessed in the export-dependent IT stocks.  
The Brent crude oil price also declined to $57.94 a barrel.
"In its earlier meetings, the Fed had a hawkish stance, which meant that they could be going in for a rate hike every quarter...but now the Fed seems more flexible, clear from its dovish remarks, which have hurt the dollar," Anindya Banerjee, Deputy Vice President for Currency and Interest Rates with Kotak Securities, said. 
"This is partly the reason the rupee has gained strength against the US dollar. Also, a constant decline in global crude oil prices has aided the rupee's gains."
Top gainers on the Sensex were Bajaj Auto, which rose over 4 per cent, while Kotak Mahindra Bank, Mahindra and Mahindra, and Vedanta gained in a range of 2 to 4 per cent.
Power Grid lost 1.17 per cent -- the most on the Sensex -- followed by NTPC, ONGC and Coal India.