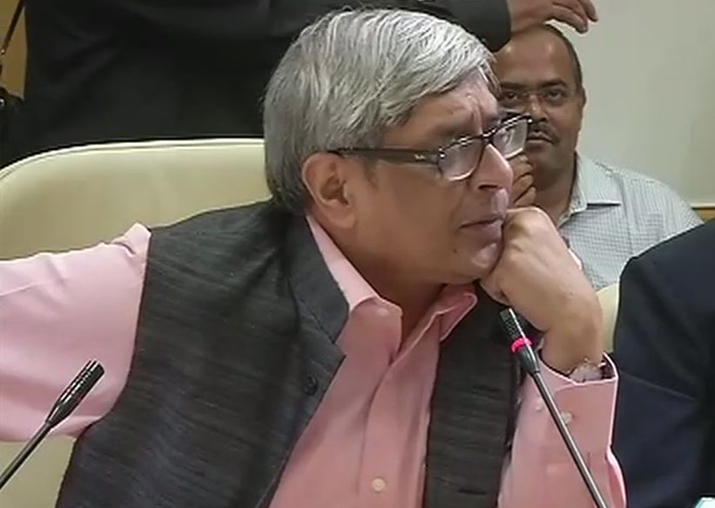 Bibek Debroy-led Economic Advisory Council to the Prime Minister today met here for the first time to discuss the present state of country's economy and deliberated on various issues to give a push to the GDP rate. 
Briefing the media, Debroy said that the panel picked 10 issues on which it will initially work. He said that economic growth, employment and job creation, informal sector and integration of informal sector, fiscal framework, monetary policy, public expenditure and efficiency of public expenditure, institutions of the economic governance, agriculture and animal husbandry were the core issues that were discussed today. 
"Patterns of consumption and production and social sector are among the 10 issues that we'll initially work on," he said.
He added that "whenever the panel will take any view on monetary policy, it will discuss with the Reserve Bank of India".
Debroy said that the panel also focussed on critical interventions related to accelerating economic growth and employment with greater social and financial, inclusion based on rigorous economic analysis.
Debroy also said that the council acknowledged that India is going through an economic slowdown but added that it must not deviate from the fiscal consolidation exercise.
"There is consensus within the Council that the fiscal consolidation exercise should not be deviated from," he said.
The Council was set up with the approval of PM Narendra Modi late last month. Besides Debroy, other members are: Principal Adviser to NITI Aayog Ratan P Watal as member secretary and Surjit Bhalla, Rathin Roy and Ashima Goyal as part time members.
The announcement to form the group came on September 25 after the GDP growth registered a three-year low at the end of the first quarter of the current fiscal. The GDP growth fell to a three-year low of 5.7 per cent during the first quarter of the current fiscal. According to government data, the GDP growth rate has been slowing every quarter since March 2016, when it stood at a whopping 9.1 per cent.
The Council is mandated to analyse all critical issues, economic or otherwise referred to it by the Prime Minister and advising him thereon.