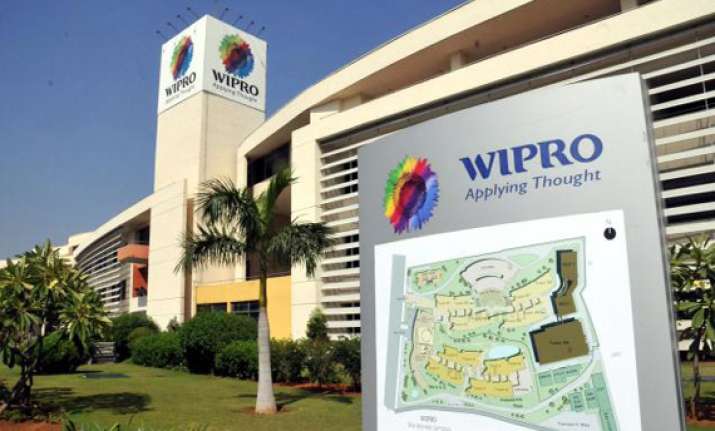 Bangalore: Posting better-than-expected earnings, India's third largest IT exporter Wipro today reported a 28 per cent growth in its consolidated net profitfor the quarter ended September 30, aided by currency depreciation and an uptick in client spending. The city-headquartered firm posted a net profit from continuing operations of Rs 1,932.1 crore for the second quarter against Rs 1,510.5 crore in the year-ago period.
Registering its highest growth in the last 7 quarters, consolidated revenues rose by 19 per cent to Rs 10,990.7 crore in the July-September quarter this fiscal from Rs 9,235 crore in the same quarter of 2012-13 fiscal. Wipro Chairman Azim Premji said: "There are positive indicators on the global economy. Client confidence is on the uptick and we see it reflected in our results."
In US dollars, Wipro's net profit stood at USD 309 million in the second quarter this fiscal, while consolidated revenues were at USD 1.76 billion during the quarter. IT services revenue rose 20 per cent to Rs 10,068 crore in the second quarter. In US dollars, IT revenues rose 5.9 per cent year-on-year (Y-o-Y) to USD 1.63 billion, whereas, sequential growth stood at 2.7 per cent.
Wipro, which does not give annual forecasts, had guided to USD 1.62-1.65 billion IT service revenue in second quarter. "We have had the highest revenue growth over the last 7 quarters. All our verticals have grown sequentially in Q2. We have likewise seen broad based growth across customers," Wipro Ltd CEO T K Kurien told reporters here. However, analysts said Wipro's sequential revenue growth lagged peers. TCS revenue sequentially rose 5.4 per cent in US dollar terms, Infosys 3.8 per cent and HCL 3.5 per, while, Wipro's IT revenues grew 2.7 per cent. "The growth was lower than reported by peers...," said Kotak Securities Head PCG Research Dipen Shah.
However, in rupee terms, Wipro's revenue from operations rose quarter-on-quarter by 12.91 per cent. Shares of Wipro today closed at Rs 514.90 apiece, up 1.67 per cent from their previous close at BSE.
Our sustained execution towards increasing operational efficiencies in the business coupled with currency benefits helped offset the impact of wage hikes resulting in strong improvements in operating margins," Wipro CFO Suresh Senapaty said.
On outlook for October-December quarter, Wipro said: "We expect revenues from our IT Services business to be in the range of USD 1.66-1.69 billion." On growth, Kurien said: "Over the quarter we have seen discretionary spends continue to show a steady pick up and our deal conversion rates have gone up. We see a broad based revenue growth across verticals."
Wipro added 45 clients during the second quarter this fiscal taking its total client base to about 1,256. Majority of additions came in from the USD 10 million bracket during the quarter.
Geography-wise, Americas was the top revenue generator followed by Europe, Asia-Pacific & other emerging markets and India & Middle East business. In terms of verticals, Finance Solutions led the tally followed by Manufacturing & Hitech, Energy, Natural Resources & Utilities, Retail, Consumer Goods & Transportation, Global Media & Telecom and Healthcare, Life Sciences & Services.
On employee front, Wipro said its IT Services segment had 147,216 employees as of September 30, 2013 against 147,281 in the April-June quarter this fiscal. Analysts said Wipro's performance was largely in line with their expectations.
"...margins were higher than expectations, partly due to a marginal reduction in employee strength. Margins improved despite higher impact of salary increments, as the company improved the utilisation levels during the quarter," Shah of Kotak Securities said.
The third quarter guidance is marginally better than expectations. Focus on mining existing clients and winning large deals seems to be yielding results, he said. "We believe that the initial signs of gains from restructuring initiatives have started showing and expect Wipro to do well in the quarters ahead," said Ankita Somani, Research Analyst - IT, Angel Broking.