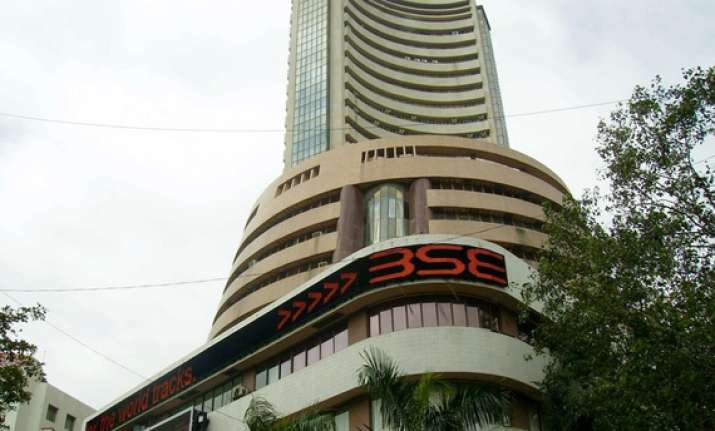 Mumbai, Jun 12: Interest rate sensitive banks and realty stocks surged today, pushing up benchmark Sensex by 195 points to a fresh one-month high after weak IIP April data boosted hopes that RBI will cut lending rates soon.
After S&P's threat to downgrade India's sovereign rating to junk status shaved off 51 points yesterday, Sensex opened nearly 100 points down and touched the day's low of 16,553.47. 
However, investors bought banks, realty and capital goods scrips as the 0.1 per cent growth in IIP for April reinforced rate cut expectations that RBI will shift gears to support growth in its June 18 mid-quarter monetary policy review. 
"Today's weak industrial production reading increases the likelihood of a 50 bps rate cut" said Sonal Varma of Nomura.  SBI, HDFC Bank and ICICI Bank gained in the 1.5-2 per cent range and lifted the key index by 194.79 points or 1.17 per cent to 16,862.80 at close, the highest level since May 7. 
In the 30-share index, 25 closed higher while five ended lower. Gainers were led by Maruti Suzuki which jumped 3.48 per cent as investors cheered auto major's decision to merge engine and transmission maker Suzuki Powertrain with itself.
Tata Motors (3.14 pc), L&T (2.53 pc) and Sterlite (2.51 pc) were other notable gainers.
Brokers also said the rally today was supported by Finance Minister Pranab Mukherjee's statement that government would take steps to give positive signals to the industry.  
The market also ignored weakness in rupee as the currency breached the 56-level a dollar today and was trading at 55.8.  Among indices, BSE-Realty was the best gainer (2.01 pc), followed by BSE-Bankex (1.90 pc), BSE-Capital Goods (1.84 pc), BSE-Auto (1.76 pc) and BSE-Consumer Durables (1.52 pc). 
All eyes are on the May inflation data to be released on June 14 and market is expecting 7.5 per cent acceleration in Wholesale Price Index (WPI) from a year ago, traders said. 
"Thursday's May inflation print and core inflation reading will be important for the RBI policy decision," said Siddhartha Sanyal, Chief India Economist, Barclays Capital.  The 50-share NSE Nifty rose by 61.80 points, or 1.22 per cent to 5,115.90.