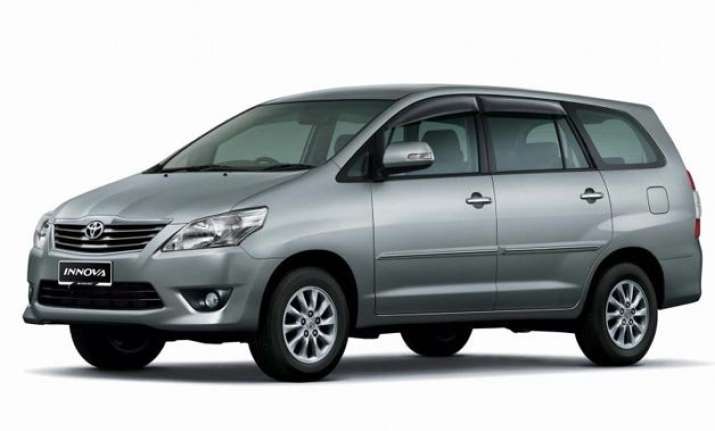 New Delhi: Amid concerns among automakers that the supreme court ban on diesel SUVs in NCR may be extended, Toyota's India unit is exploring to bring in the petrol versions of popular multi-purpose vehicle Innova and SUV Fortuner.
Toyota, the Japnese automaker, which makes vehicles in India in collaboration with Kirloskor motors, records a major proportion of sale from diesel powered vehicles. It is considering having petrol versions for all future products to de-risk sales from adverse rulings on diesel vehicles,The Economic Times reports.
According to TS Jaishankar, deputy managing director-commercial at Toyota Kirloskar Motor, when Innova was introduced in Indian market, Toyota had also rolled out a petrol version but it was discontinued as demand was largely diesel driven.
"The NCR accounts for 14% of our total sales, We are exploring options to bring in petrol versions of the Innova and the Fortuner, he told ET
"About 400,000 units of diesel vehicles with 2-litre or heavier engines are sold in the country annually and of these 5-8% are sold in the NCR. Across India, Mahindra & Mahindra has more than 50% of this market, while Toyota has about 20% and Tata MotorsBSE -6.10 %, less than 5%, the ET quoted industry experts.
Toyota, along with other representatives from the industry, has moved Supreme Court asking it to modify its last month's order banning registration of diesel SUVs and luxury cars with engine capacity of 2000cc or more in Delhi and the National Capital Region.
The automakers will appeal that older vehicles that are more polluting be removed from roads instead of putting curbs on the registration of BS IV versions which conform to latest emission guidelines.
Toyota claims more than 53% of vehicles registered in the National Capital Territory of Delhi are of BS I and BS II standards, or more polluting than the newer ones.
Mahindra said it will focus on developing petrol engines for its existing portfolio of vehicles.M&M is among the worst hit by the ban because it only has diesel SUVs. Several of its models, including the Scorpio, Bolero and the XUV500, are powered by engines of more than 2 litres in capacity that now cannot be sold in the capital until March 31.
The ban had strongly hit the sales of luxury car manufacturers since most of their sales come from diesel vehicles and Delhi is one of the most crucial markets for them.