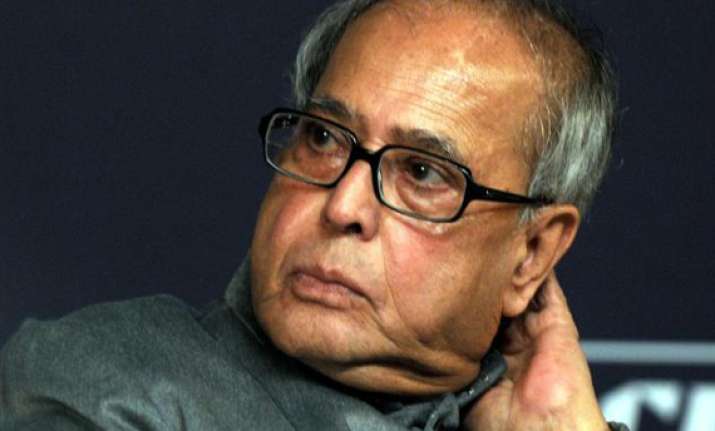 New Delhi, Jun 27: Pranab Mukherjee, who resigned as the finance minister on Tuesday to contest for the post of President as a Congress nominee, sought to justify some of his tough and contentious decisions saying that they were taken in the interest of people.
"I know that not every decision which I have taken might have been right. But I have taken those decisions keeping in view the interest of the people whose faces appeared before me more than often," Pranab Mukherjee said before demitting his office in North Block.
After a three-year tenure, Mukherjee demits office at a time when investors have hit a sour note on India due to a number of controversial policies like GAAR and retrospective amendment to tax laws. His leaving office is also marked by yawning current account deficit, rupee at all-time low and a plummeting economic growth rate.
His tenure also coincided with the world economic crisis in 2008 and again the renewed prospects of a slowdown in 2012.
Pranab Mukherjee, who received both bouquet and brickbats for his decisions, said criticism and appreciation reminded him of his duties.
"Members of the media, friends like you, have always reminded me my responsibility most of time through your criticism, sometimes through your appreciation, what I should do as a representative of the people," he said.
"I hope these duties you will continue so long I am in public life," he said.
Pranab Mukherjee tendered his resignation to Prime Minister Manmohan Singh and would now campaign for the presidential polls scheduled on July 19. The 77-year old leader will file his nomination for the highest post in the country on June 28.
As a finance minister he had to steer the economy out of the crisis and also brought in new taxation proposals, including retrospective amendment and introduction of General Anti Avoidance Rules (GAAR), which have generated wide spread criticism and concerns of slowing foreign investment.