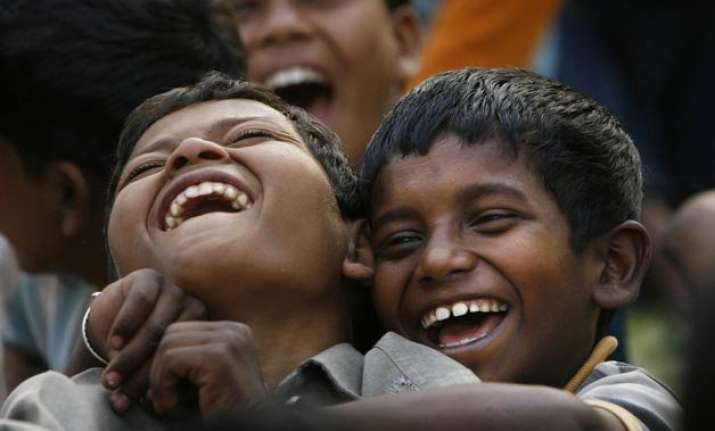 New Delhi: Foot tapping numbers from golden age of cinema to peppy contemporary songs—CEOs of various corporates came forward to belt out melodies to raise funds for critically ill underprivileged children.
The 13th edition of Genesis Foundation's 'CEOs Sing for GF (Genesis Foundation) Kids', an annual fund raiser held here last evening saw 13 top leaders crooning to various songs.
"It's an excellent concept - the event was full of fun, all of us who are not professional singers are re-discovering our talent.  Probably making a second beginning in our lives and performing after many decades," YM Deosthalee, Chairman & Managing Director, L&T Finance Holdings said.
The event was held to support and raise funds for eight critically ill children.
"I have been singing only for this event on stage for a while. I think it's a great way to meet out your corporate social responsibility at the same time having fun. It brings joy not only for us but also to the children and their families," Siraj A Chaudhry, Chairman, Cargill India said.
Muhammad Rafi songs 'Ek haseen sham ko dil mera kho gaya' and 'Yeh Raat Bheegi Bheegi' from the film 'Chori Chori' left the audiences swaying.
"Music, when combined with the joy of giving, creates magic. I can't thank the immensely talented CEOs enough for their time and for supporting the cause so generously. It was also heartening to see so many people in the audience join our efforts to support critically ill children," Prema Sagar, Founding Trustee of Genesis Foundation said.
There were soulful renditions by Krishnan Chatterjee, Senior Vice President & Head of Strategic Marketing, HCL Technologies to romantic renditions by Ashim Das, CEO, Mehala Machines India Ltd, Ajay Kaul, CEO, Jubilant Foods, Siraj A Chaudhry, Chairman, Cargill India, Harsh Mahajan, Founder & Chief Radiologist, Mahajan Imaging and Sanjay Kapoor, Chairman, Micromax Informatics Ltd.
"I simply loved being a part of this event. Beneficiary kids and families truly appreciate the sentiments. I am delighted and feel honoured to be a part of this event," Ajay Kaul, CEO, Jubilant Foods said.
Proceeds from the fundraiser event go into supporting treatment of critically ill underprivileged children like two year-old Manoj Behere, who underwent surgery for an intra-cardiac problem that he was born with.
Beher's father, a farmer from Odisha who has to meet his family needs on a meagre fund of Rs 5000 a month cannot afford the prohibitive treatment costs for Manoj. 
 
Meanwhile on Saturday evening, the pace picked up to foot-tapping numbers by P Balaji, Director Regulatory & External Affairs, Vodafone India Ltd and Sonu Talwar, CEO,Nova Fertility Clinic.
Sensuous saxophone melodies by Ranjan Chopra, CEO, Team Computers was accompanied by popular jazz artist Valentine Shipley.
"Over a year I have been participating in this event and I love to. Even though I am not a trained singer but singing in front of friends and colleagues is quite enjoyable and to bring a smile on lips of these kids is just a wonderful feeling," said Sanjay Kapoor, Chairman, Micromax Informatics Ltd. said.
The evening was brought to a crescendo by Vipin Raheja, CMD, Napino Auto and Electronics Ltd, who set the tone with Jhumroo, yodeling with ease, and then brought everyone to their feet with hits by Kishore Kumar.
Soon he was joined on stage by other CEO singers, turning the evening into a celebration of fun, music, dance.