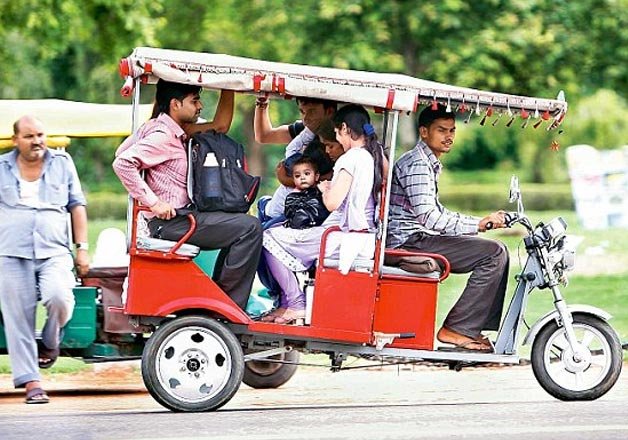 New Delhi: Japanese electric vehicle maker Terra Motors Corporation plans to sell 30,000 e-rickshaws in the Indian market by year-end on the back of enhanced sales network and new product launches.
The company on Thursday expanded its electric-rickshaw range in the country by launching 'Y4Alfa' priced at Rs 1.2 lakh (ex-showroom Delhi) and plans to invest around $5 million to expand its production capacity and hiring more employees.
Terra Motors also introduced Terra battery for e-rickshaws priced at Rs 27,000.
"India is the second largest producer of three-wheelers in the world. Hence, India is an important market for us. We plan to sell 30,000 units of e-rickshaws and 20,000 sets of Terra batteries by the end of this year," Terra Motors Country Director Teppei Seki told reporters here.
The company aims to enhance its dealers network from 13 to around 100 outlets during the year, he added.
Terra Motors has a manufacturing facility for e-rickshaws in Gurgaon with an installed capacity of 2,000 units per month. It sells one e-rickshaw model in the country.
"We are now looking to expand the production capacity of this plant. We plan to take it to 3,000 units a month by end of September. We are also looking for another plant," Seki said.
When asked about the future investment plans, he added that the $5 million could be spent on new factory and hiring more employees in the country.
On future product pipeline, he said: "We can look at electric two-wheelers. But that would be later as we are currently focusing just on the e-rickshaw business. There are no plans for a quadricycle or a four-wheeler at the moment." The company has already invested around $2 million since launching operations in India. Since the start of selling e-rickshaws in the country from August last year, it has retailed around 3,500 units.
Commenting on the Y4Alpha e-rickshaw, Seki said that the 'light weight' model is water resistant and suitable for urban transport.
The rickshaw weighs 380 kg and can accommodate five people including the driver. It is powered by Terra battery which gives it a range of 100 km on full charge.
It has a maximum speed of 25 km/h.
The company also plans to export the model to Africa and neighbouring countries like Nepal, Seki said.
Tokyo-headquartered Terra Motors is the leader in electric two and three-wheelers in Japan. It also has presence in various Southeast Asian countries like Vietnam and the Philippines.