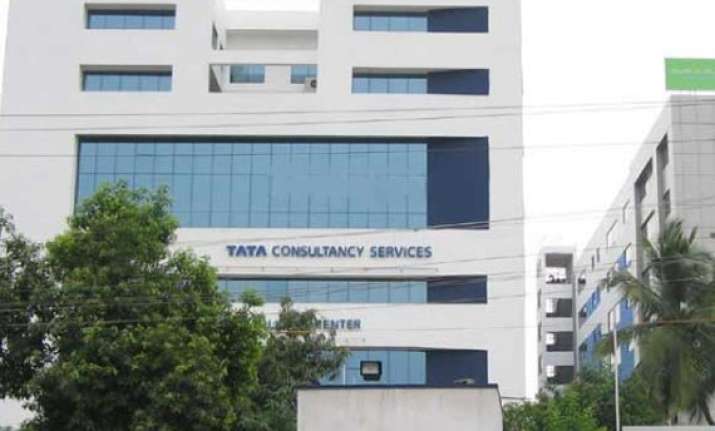 Mumbai: Country's largest software exporter TCS has posted a 13.2 per cent jump in its September quarter net profit at Rs 5,244 crore and remained "bullish" about the next fiscal.
Tata Consultancy Services, which is the most valued company, reported a 13.5 per cent growth in revenue at Rs 23,816 crore.
In the year-ago period, its net profit stood at Rs 4,653.9 crore.
Unveiling the earnings figure, TCS also announced the merger of its subsidiary CMC with itself. The merger ratio is 1:1.26 or 79 TCS shares for 100 CMC shares. TCS had bought CMC from the government in the 1990s through a divestment process.
TCS revenue jumped 13.5 per cent to Rs 23,816 crore in the second quarter ended September 30 as per the Indian GAAP system of accounting.
On a sequential basis, net profit was down by 5.8 per cent to Rs 5,244 crore, while revenue was up 7.7 per cent at Rs 23,816 crore.
"Driven by strong volumes and robust utilisation rates, this has been a quarter of steady, consistent performance. Our well-rounded showing has been highlighted by broad-based growth in our key markets, industries and services as we continued to deepen our engagement with customers," TCS MD & CEO N Chandrasekaran said.
On the broader numbers, Chandrasekaran, who recently got a five-year extension, said the company faced headwinds from select geographies and sectors like Latin America and from the insurance sector, while retail did not match expectations.
Apex software industry body Nasscom has pegged IT exports growth at 13-15 per cent in the current fiscal year, citing improving global economy.
"Across the sectors, and across markets, we remain very positive. If at all, we are only increasing our investments both in sales and capability building. We have already hired 36,000 people (as against targeted 55,000 for FY15)...so, we remain bullish about next year," he said.
TCS shares today closed at Rs 2,678.85, down 0.77 per cent on the BSE. The earnings figure came after close of market hours.
TCS peer Infosys had earlier reported a 28.6 per cent jump in its consolidated net profit at Rs 3,096 crore for the September quarter.
With Infosys fast catching up on space it ceded in the past and being very aggressive, Chandrasekaran was asked about the dynamism in competition and how he sees the IT landscape.
He merely said: "We always look at the customer." Chandrasekaran said the growth Q2 was broadbased, coming from its key markets like Europe and the US, while Latin America was a surprise on the downside as some anticipated ramp-ups did not materialise.
On the rationale of the merger, he said, "By getting both companies together, we can rationalise some cost structures and also we can go to the market better. I think they will add to the overall momentum. I think it makes sense to merge."
Among the geographies, Chandrasekaran sounded most upbeat about the Indian market that has been a disappointment for long, saying the private sector players have helped clock a double-digit revenue growth on a sequential basis.
Business from the Government, which has announced an ambitious 'Digital India' initiative, has not started flowing as yet, he said.
On the digital technologies front, the TCS Chief Executive said the company will fare better than the five-year target of USD 5 billion in revenues and is currently contemplating whether to disclose numbers from the stream.
The CEO said the company does not expect a dramatic turnaround in the Japan story in the next 2-3 quarters, but maintained it is a very exciting opportunity in the long term.
During the reporting quarter, TCS, which is India's largest company in terms of market capitalisation (over Rs 5.3 trillion), won eight large deals worth over $20 million - five from the US, two from Europe and one from the UK market.
Chandrasekaran said he expects a seasonal dip in performance in the third quarter due to planned shutdowns in manufacturing units and festive season for the retail sector.
On the merger issue, he stressed that overall on the numbers front, nothing much will change as the consolidated numbers of TCS, which held a majority 51 per cent stake in CMC, reflect the performance of the subsidiary.
Stating all the 11,000-odd employees of CMC will be retained, Chandrasekaran said the merger will help operations as TCS already sub-contracts work to CMC.
On the margins front, the company had a net gain of 0.55 per cent under IFRS accounting method in rupee terms, which included gains from change in computing depreciation (0.70%), operational efficiencies (0.20%) and currency movements (0.10%), while its Japan joint venture with Mitsubishi dragged the spread down by over 0.50 per cent, TCS Chief Financial Officer Rajesh Gopinathan said.
Analysts at Angel Broking maintained "neutral" outlook on the TCS scrip, saying the dollar revenue was much higher than expected but the net profit was lower than expectations.
During Q2, TCS added a gross of 20,350 people to its workforce, taking the total headcount to 3.13 lakh. It also crossed the 1 lakh women employees mark. Attrition rate was 12.8 per cent and the company said it would want to reduce it.