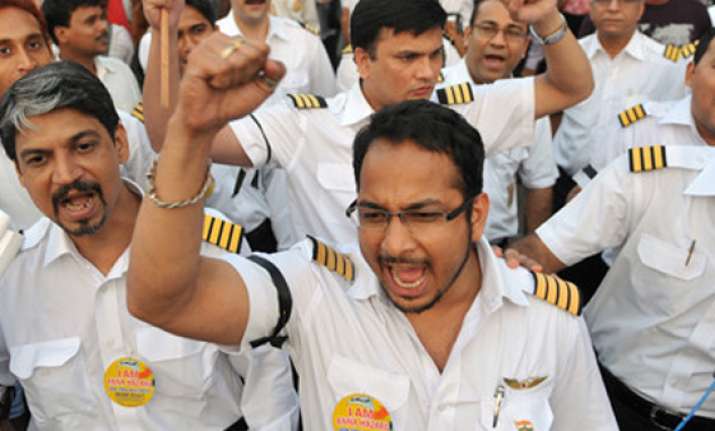 New Delhi, June 6: Threatened by Air India's decision to hire more pilots, striking Air India Pilots today today questioned the move saying the cash-strapped national carrier would not be able to afford paying high salaries to the new recruits.
"We have serious doubts about the Civil Aviation Ministry's move (to hire pilots). Whom do they want to benefit? At a time when the company is under severe financial crunch, can these new pilots be afforded at a salary which is double of ours?" Capt Anil Kumar Rao, Joint Secretary of the Indian Pilots Guild (IPG) that is spearheading the 30-day long agitation, said here.
He was talking to reporters after leading a 'silent protest march' near the Parliament House. The protesting pilots, who were in uniforms, gathered at the Jantar Mantar and marched towards Parliament House but were prevented by the police from proceeding any further. The IPG also took out a similar march in Mumbai.
Rao also appealed to the management to come forward for a dialogue and find ways to end their protest.  "The agitation is into its 30th day. We appeal to the AI management to come forward and have a dialogue. We want to fly. But for that somebody from the management or the ministry should hear us," he said.
The protesters also questioned Civil Aviation Ministry's move to hire new pilots who would be paid much higher salaries to run Air India's long-haul international operations.  
"Such a move by the ministry can jeopardise flight passenger safety. Hiring foreign pilots without study of their track records could lead to compromise with safety issue," Rao alleged.
"We have some issues and difficulties related to our careers and working conditions but they are not listening to us considering it as our demands," said First Officer GS Hunjan.
The pilots also claimed that the termination of the services of 101 of their colleagues was "not done in a legal manner" by the management.