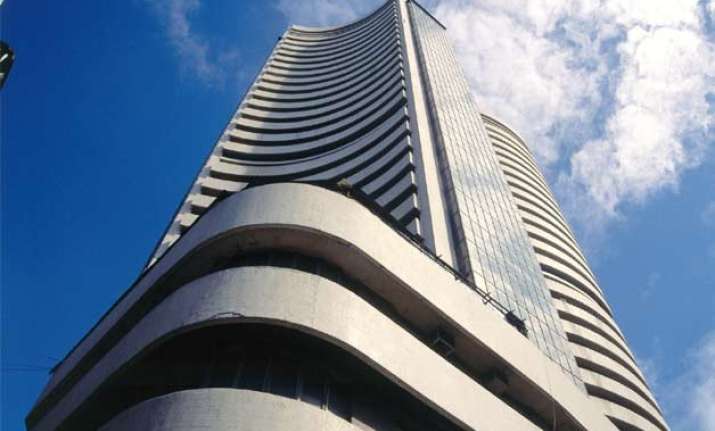 Mumbai:  The benchmark BSE Sensex today soared 479 points to settle at 27,490.59 on across-the-board buying led by auto, realty and refinery stocks, as investors took fresh positions after persistent selling in April.
Moreover, the 50-share NSE Nifty rose by 150 points to recapture the 8,300-level.
Across-the-board buying at the beginning of May series, rallies in refinery stocks and the passing of Finance Bill, 2015 boosted sentiments, brokers said.
Meanwhile, the BSE market capitalisation regained Rs 100 lakh crore-level, helped by robust gains in stocks like ONGC, RIL and Infosys.
Amid persistent taxation concerns faced by foreign investors, the indices had near four-month low in last trading session on Thursday.
Finance Minister Arun Jaitley in Parliament on Thursday clarified that minimum alternate tax (MAT) will not apply to capital gains on the sale of securities, royalty, technical service fees and interest income.
Brokers also attributed today's rebound to value-buying from an "over-sold" position after persistent fall in stock prices in the April series as participants snapped recently beaten down blue-chip stocks.
The Sensex resumed higher at 27,204.63 and shot up further to a high of 27,537.85 before ending at 27,490.59, registering a rise of 479.28 points or 1.77 per cent.
The 50-share NSE Nifty recaptured the 8,300-level to hit a high of 8,346.00 points, before settling 150.45 points or 1.84 per cent higher at 8,331.95. This is the best single-day gain in two months for the index.
Overseas, European stocks were trading higher after latest data showed that euro zone's manufacturing sector expanded in April. Key indices in France and Germany rose in the range 0.39 to 0.84 per cent, while the UK market was closed today.
Meanwhile, Foreign portfolio investors sold shares worth Rs 3,157.61 crore and Domestic institutional investors bought shares worth Rs 2,460.80 crore on Thursday as per provisional data. Asian stocks ended mixed as weak China factory activity reinforced views that Beijing will roll out fresh support measures soon.
Key indices in China, South Korea and Taiwan moved up by 0.24 per cent to 0.87 per cent, while indices in Hong Kong and Singapore moved down by 0.03 per cent to 0.13 per cent.
Japanese market will be closed till May 6. Jignesh Chaudhary, Head Of Markets at Veracity Broking Services said: "Today local equities traded positively and almost 2 per cent for the day posting their biggest daily gain in more than a month as investors took it as the opportunity to buy blue-chips which are trading at low levels." Of 30-share Sensex pack, 27 scrips ended higher.
Major gainers were ONGC (7.57 per cent), Bajaj Auto (7.40 per cent), Cipla (5.80 per cent), M&M (4.72 per cent), BHEL (3.29 per cent), Hindalco (3.25 per cent), RIL (3.20 per cent), Bharti Airtel (2.96 per cent), HDFC (2.81 per cent), SBI (2.68 per cent), Dr Reddy's (2.67 per cent), Infosys (2.67 per cent) and Hero MotoCorp (2.43 per cent).
Among the BSE sectoral indices, Oil&gas rose by 3.52 per cent, followed by realty 2.51 per cent, healthcare 2.35 per cent, FMCG 2.08 per cent, power 2.00 per cent, consumer durable 1.82 per cent, IT 1.68 per cent, auto 1.55 per cent
and metal 1.54 per cent.
Small-cap and mid-cap indices also rose by 2.06 per cent and 1.28 per cent, respectively, on good buying from retail investors.
The market breadth turned positive as 1,954 stocks ended with gains, while 833 closed with losses. The total turnover fell to Rs 3,079.92 crore from Rs 3,745.63 crore on last Thursday.