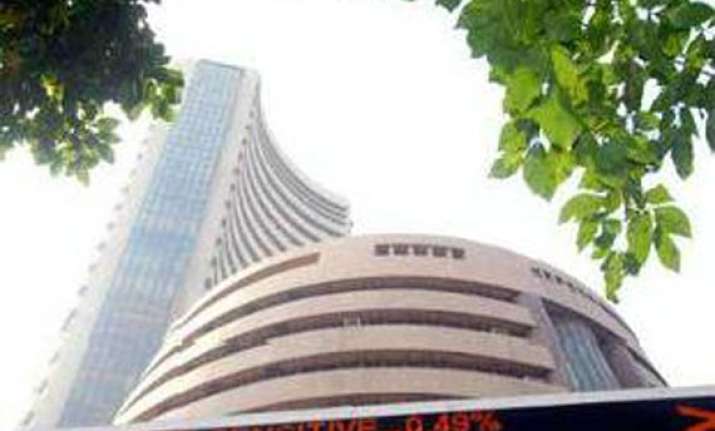 Mumbai, May 23 :  In sync with a rout in global stocks, BSE benchmark Sensex today plummeted nearly 390 points to end below 20,000-level on host of negative factors like dismal SBI earnings, US Fed remarks on likely scaling down of monetary stimulus and poor factory output signs in China.
Tracking overnight losses in US markets, the 30-share index sank under immense pressure right in the opening with overseas investors stepping up selling across counters.
Around 19 per cent slump in SBI's fourth quarter profit that sent its shares down 8 per cent triggered all-round selling with BSE Realty, Capital Goods, Power and Banking indices falling by 3-6 per cent. L&T, RIL, ICICI Bank, Bharti Airtel, BHEL and Jindal Steel were among major Sensex losers.
Sensex finally closed at a nearly two-week low level of 19,674.33, a fall of 387.91 points, or 1.93 per cent. In four days, it has tumbled by 611.79 points or 3.01 per cent.
Similarly, the broad-based 50-issue CNX Nifty of the NSE also tanked by 127.45 points or 2.09 per cent to end at 5,967.05. MCX-SX flagship index SX40 also closed down by 178.75 points, or 1.51 per cent, at 11,682.3.
Across the markets, investor wealth worth Rs 1.37 lakh crore was wiped off today with over 1,700 stocks ending on the losing side while nearly 600 scrips managing to close higher.
Finance Minister P Chidambaram sought to assuage stock markets by asserting that there was no need for any "nervousness" and the participants should read the situation correctly rather than be influenced by external developments.
"Fed Chairman Ben Bernanke suggestion that the central bank may begin tapering its bond-buying program later this year sent markets tumbling," said a note from India Infoline.
Rupee also wilted under capital outflows and was trading at 55.6 levels against dollar, after touching lowest level since September 2012.
Globally, Asian stocks slid after unexpected decline in China's manufacturing data in May after seven months and Japan's Nikkei stock index plunged by over 7 per cent.
US stock futures pointed to a sharply lower open later today after Federal Reserve Chairman Ben Bernanke reportedly said the bank could begin tapering its bond-buying programme.
In testimony to US Joint Economic Committee on Wednesday, Bernanke had said a decision to scale back Fed's asset purchases could be taken soon depending on economic data. Minutes from Fed's May meet also showed a number of policymakers inclined to slowing down bond purchases.
In Asian markets, key indices in China, Hong Kong, Singapore, Japan, Taiwan and South Korea shed by 1.16 per cent to 7.32 per cent. In Europe, the CAC (France) was down by 2.36 per cent, the DAX (Germany) by 2.62 per cent and the FTSE (UK) by 1.96 per cent.
Coming back to India, 28 stocks out of 30-share Sensex finished lower while just two closed higher. Apart from SBI which fell by 7.96 per cent, L&T (6.49 pc), Jindal Steel (4.05 pc), RIL (3.99 pc), NTPC (3.88 pc) and Bhel (3.74 pc) saw steep losses.
Bharti Airtel (3.59 pc), M&M (3.09 pc), ICICI Bank (3.03 pc), Tata Power (2.92 pc), Sterlite Ind. (2.59 pc), Maruti Suzuki (2.39 pc), Tata Steel (2.03 pc), Bajaj Auto (2.02 pc), Gail India (1.90 pc), Wipro (1.48 pc), Hindalco Ind (1.27 pc), Infosys (1.23 pc) and ITC (1.04 pc) also ended lower. However, HDFC moved up by 0.53 per cent and Sun Pharma by 0.46 percent.
"Profit-booking and sell-off in global markets are main reasons for selling pressure...Stocks had seen strong rally in last 5 weeks and correction phase was long overdue. High liquidity had been driving prices. However, this correction is likely to provide comfortable levels to re-enter," said Nidhi Saraswat, Senior Research Analyst, Bonanza Portfolio.
In sectoral performance today, the S&P BSE-Realty dropped by 5.95 per cent, S&P BSE-CG 5.19 per cent and S&P BSE-Power 3.96 per cent, S&P BSE-Bankex 2.84 per cent, S&P PSU 2.68 per cent, S&P BSE Oil&Gas 2.65 per cent, S&P BSE-CD 2.02 per cent, S&P BSE-Metal 1.90 per cent and S&P BSE-Auto 1.58 per cent.
The total turnover was shot up to Rs 3,910.33 crore from Rs 2,064.84 crore yesterday. Meanwhile, foreign institutional investors (FIIs) bought shares worth a net Rs 540.18 crore yesterday, as per provisional data from the stock exchanges