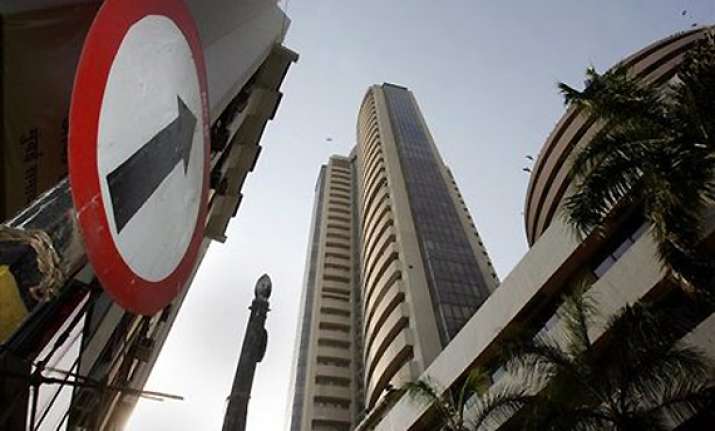 Mumbai, Oct 28: Logging in the biggest gain in two months, the BSE Sensex shot up 516 points today to close at 3-month high of 17,804.80 on the back of strong global markets after EU leaders agreed to a deal that will ease the euro-zone debt crisis.

The stock market rally pushed up the bellwether indices, Sensex and Nifty by a whopping 3 per cent, adding an estimated Rs 1.5 lakh crore to the investor wealth. 

The BSE 30-share barometer commenced trading sharply higher and shot up over 600 points to a high of 17,908.13 before concluding at 17,804.80. It closed 515.97 points or 2.98 per cent up - biggest gain in absolute term after August 29, when it had spurted 567.50 or 3.58 per cent. 

The NSE wide-based Nifty also flared up 158.90 points or 3.05 per cent to close at a fresh 3-month high of 5,360.70.  All the 13 sectoral indices closed with gains of between 6.34 per cent and 0.18 per cent with metal, realty, banking, capital goods and auto leading the rally. 

From the Sensex pack, 27 of the 30 scrips finished with sharp to moderate gains while only Maruti Suzuki, Bharti Airtel and Bajaj Auto closed with losses. 

Asian stocks made gains and closed with best weekly gains in a couple of years, after European leaders agreed on a plan to resolve the two-year long debt crisis, triggered by Greece.  Higher than expected US growth data also boosted sentiment. 

"Indian markets had a huge gap-up opening post the announcement of EU plan and strong GDP numbers by the US.  growth and stand back on their feet," said Milan Bavishi, Head Research, Inventure Growth and Securities. 

Key indices in China, Hong Kong, Japan, South Korea, Singapore and Taiwan settled up between 2.04 per cent and 0.39 per cent. In Europe, while the CAC and the FTSE were trading weak, DAX was quoting higher.

In US, the Dow Jones and the Nasdaq ended sharply up yesterday, gaining 2.86 per cent and 3.32 per cent.  Back home, metal and mining shares led the rally after LMEX, a gauge of six metals traded on the London Metal Exchange, shot up yesterday.

Hindalco was the top gainer from the metal as well as the Sensex pack with a rise of 10.88 pc. 

All 14 shares from the Sectoral BSE-Metal index showed smart gains. JSW Steel, Sterlite Ind, Jindal Steel and Power, SAIL, Tata Steel, Bhushan Steel, Hind Zinc, Coal India, Nalco, NMDC and Sesa Goa closed higher between 9.94 pc and 0.15 pc. 

Interest rate sensitive stocks from realty, banking and auto segments were also in demand after RBI hinted this week that it may pause the hike in lending rates, which have been raised 13 times since mid-March 2010 to rein in inflation. 

The BSE-Metal was the top gainer from sectoral indices with a spurt of 6.34 per cen, followed by Realty (5.34 pc), Bankex (3.73 pc), Capital Goods (3.56 pc) and Auto (2.87 pc). 

Other gainers from the Sensex family were Sterlite Ind (8.80 pc), DLF (7.95 pc), Jaiprakash (7.90 pc), Jindal Steel (7.53 pc), Tata Motors (7.34 pc), ICICI Bank (7.01 pc), Tata Steel (6.45 pc), L&T (4.63 pc), BHEL (3.35 pc), ONGC (3.04 pc), HDFC (2.98 pc) and RIL (2.82 pc).  Coal India, NTPC, Hero MotoCorp, M&M, TCS, SBI, HUL, Cipla, ITC, Wipro, Sun Pharma and Infosys settled up between 2.81 per cent and 0.74 per cent.

The total market breadth was positive as 1,728 stocks closed in the green, while 1,139 ended in the red. The total turnover was at Rs 2,512.57 crore.