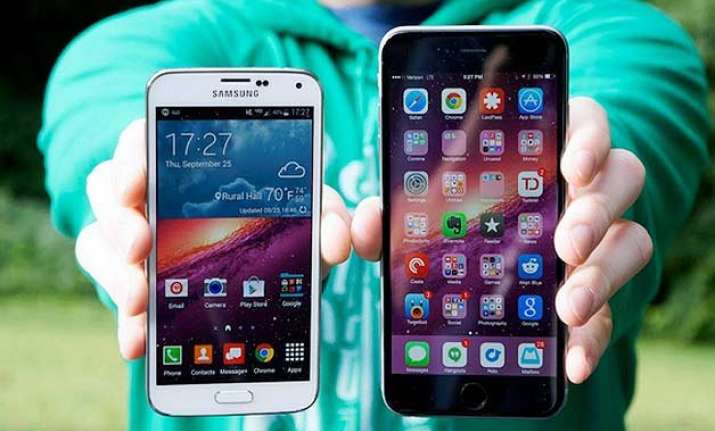 New Delhi: The CPU chip used in Samsung Galaxy S6, designed by Samsung itself, has been tested and found to be one of the fastest ever mobile chips. The chip was tested with various industry-standard benchmark tools. Earlier, Samsung used Qualcomm chips rather than using its own product.
HTC also has launched its flagship device M9 along with the Samsung's S6 and they both are packed of the latest technology. While M9 uses the Snapdragon 810 chip, S6 uses Samsung Exynos 7420 chip.
Both phones were compared with current handsets such as Apple iPhone 6 Plus and based on various test results, it was found that S6 is way ahead of all his comparables.
The latest GeekBench results were shared by ComputerBase.de, which show that the Galaxy S6 is top of the multi-core table with a score of 4,547 which is highest ever achieved.
The HTC One M9 comes in second place, but a distant second, with 3,959. That is followed by the Snapdragon 805 in the Nexus 6 with 3,307, then the Nvidia Shield tablet with 2,928, and in sixth place the iPhone 6 Plus with 2,911.
However, iPhone 6 Plus is a dual-core device whereas Samsung S6 has 8. So the S6 topping the chart should not come as a surprise. In terms of single core tests, Nvidia Tegra K1 Denver chip tops the result, even beating A8 chip used in iPhone 6 Plus. However, A8 succeeds to beat Exynos in the single core tests. Nvidia Tegra K1 Denver chip scores1,976, iPhone 6 Plus is second with 1,626 followed by the Samsung Galaxy S6 with 1,443, beating the HTC One M9 which achieves a score of 1,186.
The Nexus 9 is a tablet, so the Galaxy S6 seems to be the highest scoring smartphone and way ahead of any other device in the multi-core scores.
Scoring high on the processor chart really shows power of S6 but it is not a reliable way to judge a phone's actual performance. Although S6 has beaten all its competitor, iPhone 6 Plus is not in any danger of being beaten in terms of core power.