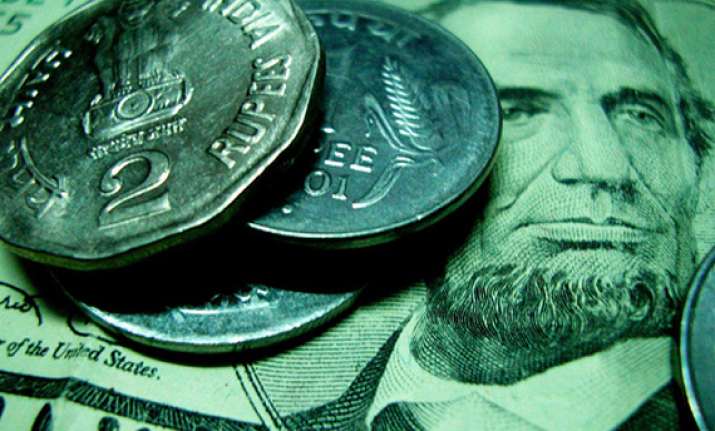 Mumbai, Dec 28: Recovering from early lows, the rupee today closed higher by 5 paise at 52.97/98 against the US currency on fag-end dollar selling by some banks and exporters.

After opening weak at 53.10/11, the rupee had fallen to the day's low of 53.44 due to month-end dollar demand from importers, mainly refiners, and weak local stocks.

Later in the day, the rupee managed to recover lost ground amid speculations of Reserve Bank's intervention to arrest the slide. RBI's role in forex markets could not be ascertained.

"The RBI is speculated to intervene in the market at 53.30 levels to curtail the weakness," India Forex Advisors CEO Abhishek Goenka said.

"There was some kind of intervention (by RBI) when rupee touched Rs 53.30 level after which it recouped," T S Srinivasan, GM (Treasury) of Indian Overseas Bank, said, adding that the rupee will remain weak in the near-term.

The rupee closed at 52.97/98 a dollar, a gain of 5 paise over the previous close of 53.02/03 a dollar. Yesterday, the rupee had tumbled by 31 paise.

Sudden dollar selling by some banks and exporters towards close aided the rupee, dealers said.

The dollar index was down by about 0.1 per cent against a basket of currencies while New York crude oil was trading just below USD 101 a barrel in European market today.

"The global markets are quite as per the holiday mood, the rupee could be in a range. We can see some stability in rupee for the time being, but again that would be for short period only. The rupee is still weak, and can look at 53.50 in near term," Goenka said.

The BSE benchmark Sensex dipped by 146.10 points or 0.92 per cent over a fall of 96.80 points or 0.61 per cent yesterday.