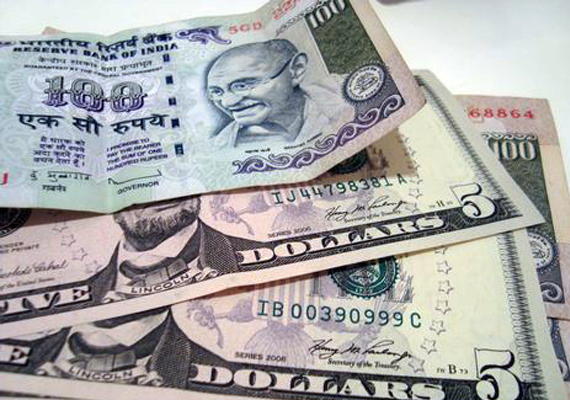 Mumbai, Oct 12: Tracking weak stock market, the rupee today surrendered initial gains and settled lower by 13 paise at 52.81 on heavy dollar demand from importers.
The rupee commenced slightly better at 52.65 a dollar from previous close of 52.68 at the Interbank Foreign Exchange (Forex) market.
Soon after, it rallied to a high of 52.55 on sustained dollar selling by exporters and overnight fall in dollar in New York due to sharp drop in jobless claims last week and downgrade of Spain's sovereign rating. 
 However, coupled with a steep fall in stock market benchmark, Sensex and renewed dollar demand from importers put the rupee under pressure quickly.
The rupee fell back to a low of 52.90, before settling slightly better at 52.81, a fall of 13 paise or 0.24 per cent over Thursday.
Dealers said FII inflows of Rs 201 crore in stocks today cushioned the local currency against a sharper fall. 
"The rupee was seen in a narrow range of 35 paisa for the day. The positive IIP data failed to impact the rupee. The negative stock market added to the loss in rupee...we target rupee towards 53 levels again in coming days." said Abhishek Goenka, Founder & CEO, India Forex Advisors. 
A bad earnings starts by Infosys and grim global economic outlook dominated by risk aversion trades weakened the rupee, said Pramit Brahmbhatt, CEO, Alpari Financial Services India.
The premium for the forward dollar recovered slightly on fresh payments from banks and corporates. 
The benchmark six-month forward dollar premium payable in March settled better at 149-1/2-151-1/2 paise from Thursday's close of 147-1/2-149-1/2 paise.