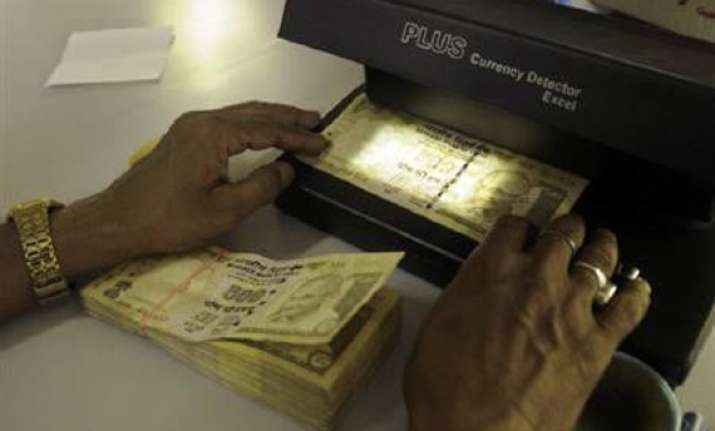 Mumbai, Feb 14: The rupee today lost 17 paise to close at 49.36/37 against the US dollar due to fresh demand for the American currency from importers, despite a firm trend in stock markets.

The local unit moved between 49.23 and 49.42 at the Interbank Foreign Exchange (Forex) market, before settling at 49.36/37, down by 17 paise, 0.35 per cent.

Forex dealers said had it not been for the sustained capital inflows and a weak dollar overseas, the rupee's fall would have been steeper.

FIIs continued their buying and picked up shares worth over USD 2.14 billion in the current month till February 13 and a total over USD 4.17 billion in 2012 so far, according to Sebi data.

The dollar index pared up its initial gains and was trading lower by over 0.1 per cent against its six major rivals as European stocks and the euro rebounded after a report showed German investor confidence rose more than economists forecast.

Meanwhile, the BSE benchmark index Sensex hit an over-six month-high and closed higher by 76 points at 17,848.57, buoyed by overall inflation dropping to over two-year low of 6.55 per cent in January.

The rupee premium for the forward dollar remained weak on sustained receivings by exporters.

The benchmark six-month forward dollar premium payable in July settled lower at 156-1/2-158-1/2 paise from 160-162 paise yesterday and far-forward contracts maturing in January also finished down at 281-283 paise from 285-1/2-287-1/2 paise.

The RBI has fixed the reference rate for the US dollar at 49.3313 and for euro at 64.8391.

The rupee edged up further against the pound sterling to end at Rs 77.74/76 from Monday's close of Rs 77.76/78 and also moved up to Rs 65.12/14 per euro from Rs 65.23/25 previously.

It advanced against the Japanese yen to Rs 63.24/26 per 100 yen from last close of Rs 63.32/34.