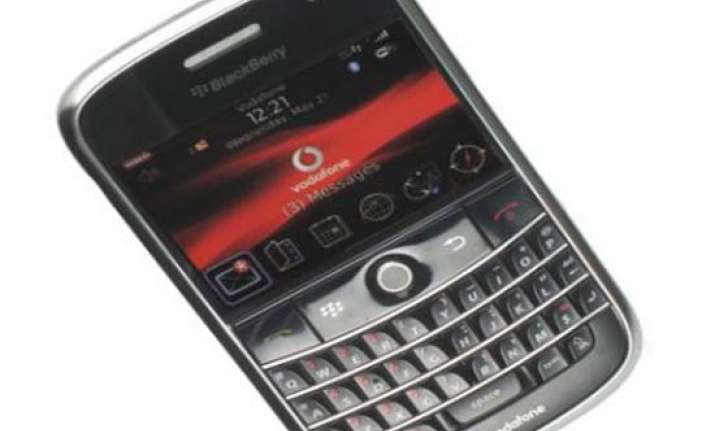 Mumbai, Jun 23: Research In Motion's (RIM) has said that it is continuing the dialogue with the Indian Government over encryption and security features of its BlackBerry phone.

While launching the BlackBerry Playbook tablet here on Wednesday, RIM's Managing Director in India, Freny Bawa, sidestepped repeated questions by the media about the company's talks with the Union Home Ministry on the encryption and security features of BlackBerry phones. "The dialogue is continuing with the government. This is an industry issue," she said.
Earlier, Union Home Ministry had even threatened to ban BlackBerry products unless security agencies were given tools to access its encryption.Another top RIM official, present on this occasion, also refused to answer when asked if BlackBerry products would run on the Android platform in the future, especially given the fact that Android applications would soon debut on BlackBerry products.
BlackBerry Playbook tablet launched today features Wi-Fi support and is available in 16 GB, 32 GB and 64 GB models, priced at Rs 22,990, Rs 32,000 and Rs 37,990 respectively. It will be distributed nationally through Redington India and Ingram Micro, initially in 1,000 retail stores across eight cities. 
"The BlackBerry Playbook is perfect for both large organizations and individuals," said Bawa. "With the BlackBerry Playbook we are stepping into a new era of mobile computing and opening up new and even more exciting opportunities for developers and content publishers with support for Adobe Flash, Adobe Mobile AIR and HTML-5," she said.
The Playbook would be sold as a multitasking powerhouse and it measures less than half an inch thick and weighs less than a pound, according to the company. It has seven-inch high resolution display, a one gigahertz dual-core processor and the new BlackBerry Tablet operating system.It also comes with premium multimedia features including dual high definition cameras for video capture and conferencing and HDMI-out port for presenting on external displays. PTI