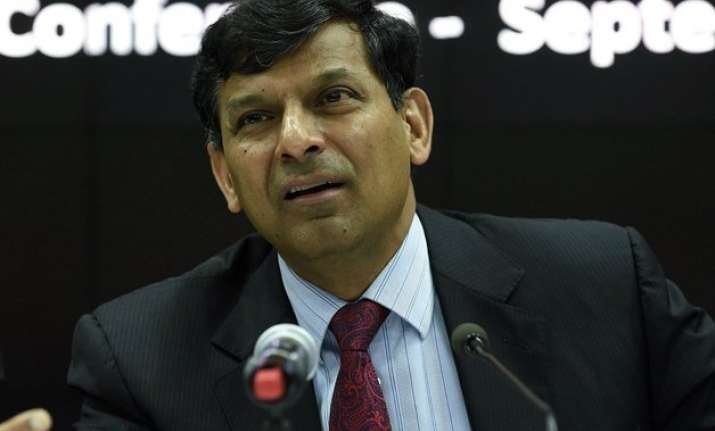 New Delhi: Ahead of the Budget, Reserve Bank of India (RBI) Governor Raghuram Rajan warned against generating economic growth through additional debt saying that any deviation from the fiscal consolidation path will hurt stability of the economy.
Rajan said that macroeconomic stability during the global turmoil cannot be risked and the government and RBI should continue to bring down inflation.
"As Brazil's experience suggests, the enormous costs of becoming an unstable country far outweigh any small growth benefits that can be obtained through aggressive policies. We should be very careful about jeopardising our single most important strength during this period of global turmoil - macroeconomic stability," he said here.
In his convocation address at the Indira Gandhi Institute of Development Research, an institution promoted by the RBI, Rajan said there is a public discussion whether India should yet again postpone fiscal consolidation path with some arguing that it could lead to higher growth.
"Unfortunately, the growth multipliers on government spending at this juncture are likely to be much smaller, so more spending will probably hurt debt dynamics. Put differently, it is worth asking if there really are very high- return investments that we are foregoing by staying on the consolidation path?" he said.
With UDAY, the scheme to revive state power distribution companies, coming into operation in the next fiscal, it is unlikely that states will be shrinking their deficits, which puts pressure on the centre to adjust more, he said.
The NDA government had last year deviated from the fiscal consolidation path, postponing reduction in fiscal deficit target by a year. Originally, the target was to bring down fiscal deficit to 3.6 per cent of the GDP in 2015-16 but it has been postponed by a year. Now, government is targeting 3.9 per cent in the current fiscal.
Rajan calls for re-examining new GDP calculation method
Rajan, referring to the controversial new methodology for calculating India's GDP growth, said that a better computation of growth is essential to capture the net gains to the economy.
"There are problems with the way we count GDP which is why we need to be careful sometimes just talking about growth," Rajan said, adding: "We have to be a little careful about how we count GDP because sometimes we get growth because of people moving into different areas. It is important that when they move into newer areas, they are doing something which is adding value."
It all started when advance estimates of GDP for 2014-15, released in February last year, projected India's growth during the year at 7.4 percent. Changing the base year to 2011-12 from 2004-05 in January, the CSO said that India's real GDP, that is adjusted for inflation, grew 6.9 percent in 2013-14 instead of the earlier projected 4.7 percent, and by 5.1 percent in the year before compared to 4.5 percent
"We do lose some, we gain some and what is the net, let us be careful about how we count that," the Governor said.
Critics pointed to the new methodology showing that manufacturing grew at 5.3 percent in 2013-14 compared to 0.7 percent, which, they maintained, was hard to reconcile with the ground level reality.
"With a marginal expansion in manufacturing, the growth figures of 7-8 percent are absolutely not credible," Ashok Desai, who was part of the Prime Minister's Economic Advisory Council in the first few years of liberalisation (1991-93), said.
A committee headed by the National Statistical Commission chairman Pronab Sen has been set up to examine the estimation methodology. But critics say he has been a vocal supporter of the new series, and hence question if the findings will be bipartisan.
With Agency Inputs