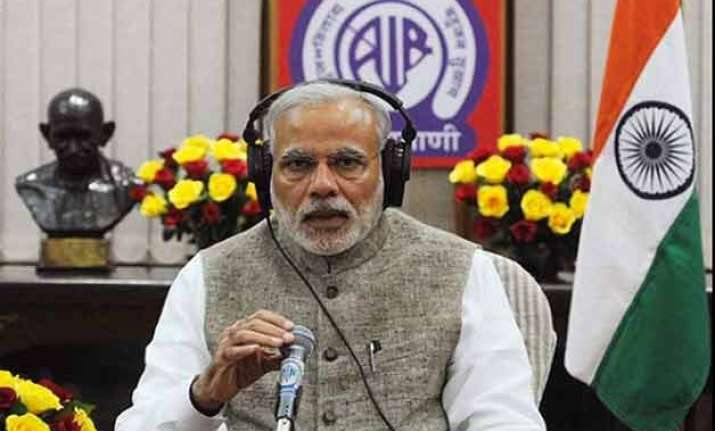 New Delhi: All India Radio, the public radio broadcaster of the country has finally got a revenue generating show in form of Prime Minister Narendra Modi's 'Mann Ki Baat'. AIR has already collected more than Rs 25 lakh from advertisers for the Sunday's episode.
Modi is using AIR to reach out to the nation directly on a pre-decided Sunday of every month, addressing different issue in each episode. Grabbing the opportunity, AIR management has decided to market the PM and attract the big advertisers to generate revenue.
Market strategist say Mann Ki Baat has all the ingredients to become a radio blockbuster show. The show attracts advertisers because it covers broader market than TV or print media. PM Modi's popularity only increases the market value of the show.
The advertising rates on Mann Ki Baat are much higher than any other programme of AIR, even more than the live commentary of India-Pakistan World Cup match. A ten second slot on the show is being sold at over Rs 2 lakh while the similar slot costs Rs 10,000-15,000 during an important cricket match of India.
The Sunday's show, in which PM will address students appearing for exams, is expected to attract millions of student listeners. GlaxoSmithKline, a multinational brand, has bought slots for its product Horlicks, considering the young listeners of the show.
An AIR official was quoted by a leading daily saying that even government departments and ministries have bought ad space. Reportedly, 105 seconds of slots worth Rs 25 lakh has been sold.
AIR is also looking to rope in regional advertisers as Mann Ki Baat is broadcast on 240 channels. The translated versions in 14 regional languages are also broadcast on the same day with some delay.