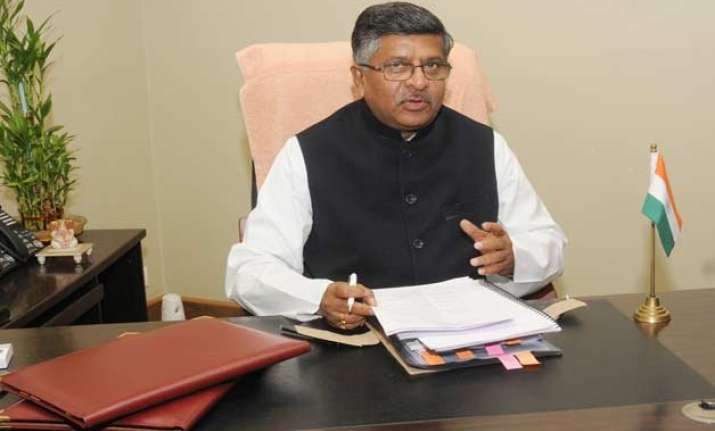 New Delhi: Telecom minister Ravi Shankar Prasad has appealed to the telecom companies to pay the 25% of the upfront money amounting to Rs. 29,000 crore due from the spectrum auctions by March end.
The govt however tries to rein in its fiscal deficit, a request which is unlikely to be met by operators reeling from steep bidding at the sale. 
As quoted by Economic Times, Prasad said, "I am requesting the operators to help us rein in the fiscal deficit. It was not a personal favour but in national interest. The government needs revenue to carry out governance." 
The government has budgeted around Rs 11,000 crore to meet its fiscal deficit target of 4.1% of GDP for this fiscal year, which is far lower than the Rs 28,872 crore that it expects to come in as upfront payment from operators. At least a fourth of the total winning amount needs to be paid within 10 days, but operators say they are unlikely to be able to make the payment in the time as requested by the minister. 
The auctions - which will net the government Rs 1,09,874 crore from the sale - saw the top three operators Bharti Airtel, Vodafone India and Idea Cellular win back 2G airwaves in the crucial 900 Mhz band in all their permit renewal circles. No. 4 operator Reliance Communications, which needs to pay Rs 4,299 crore, lost out the key cost efficient frequency in five of its seven circles which were up for renewal to Bharti Airtel and Vodafone India. 
It won back 2G airwaves (900 Mhz) in Madhya Pradesh and Himachal Pradesh. 
The Anil Ambani group flagship will use its 2G roaming agreements with carriers to service its subscribers in three of the circles - West Bengal, Bihar and Assam - where it lost 900 Mhz airwaves to the bigger rivals. Sources said it is also looking at the government's spectrum sharing rules to continue serving its users. 
In 2015 auction, Idea Cellular will cough up the highest, Rs 30,306 crore where as Bharti Airtel will pay up Rs 29,301 crore.  Vodafone is followed up with Rs 25,959 crore.
The newest entrant to the telecom business, Reliance Jio too bid fiercely and would pay Rs 10,077 crore to grab 76.75 mHz of spectrum in two different spectrum bands.
While Tata Teleservices surprised by putting in Rs 7,851 crore, also to buy CDMA airwaves. Aircel will need to Rs 2,250 crore for its 2G spectrum buy. 
The auction design and the scarcity of spectrum have resulted in exorbitant bids to secure the spectrum, particularly in renewal circles, where huge investments have already been made on the assurance of a continuity of business enshrined in the licences issued by the DoT," Gopal Vittal, MD & CEO - India & South Asia, Bharti Airtel said. 
The government though has refuted operators' claims of scarcity in spectrum. On Thursday, telecom minister Ravi Shankar Prasad told ET that the lack of competition in 2100 Mhz band (3G) showed that airwaves weren't in short supply