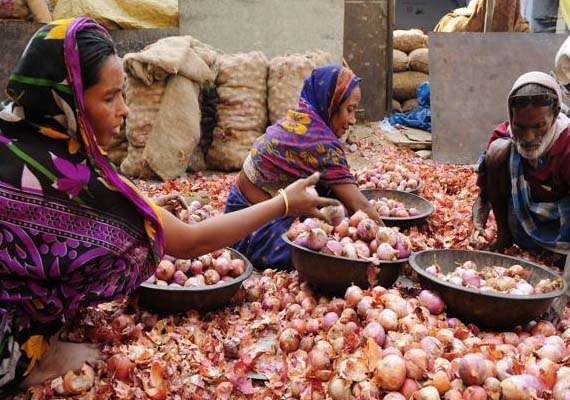 New Delhi, July 23: Onion prices have more than doubled to Rs 36-40 per kg in retail markets of metro cities in last one year, adding to the woes of consumers already burdened with overall price rise. Currently, onion is being sold at Rs 36 per kg in retail markets of the national capital and Rs 32 per kg each in Mumbai, Kolkata and Chennai, according to the Consumer Affairs Ministry that monitors prices of 22 essential food items. In some markets, onion is being sold at more than Rs 40 per kg depending on localities and quality, traders said.
Retail price of onion had stood in the range of Rs 14-15 per kg a year ago in these cities, the Ministry data showed. The hike in onion rate has disturbed kitchen budget of most consumers, who are already facing the brunt of high prices of tomato, pulses and cereals. "Normally, vegetables are costlier during monsoon. But this year, there has been exceptional rise in prices of onion as supply is affected due to heavy rains in growing states," an Agriculture Ministry official said. New crop from main growing states like Maharashtra is expected to hit consuming markets from October onwards and till then onion prices would be under pressure, he said. Amid spiralling onion prices bringing tears to consumers, easing of tomato prices has brought some relief to retail consumers in metros.
Prices have come down to Rs 40-50 per kg from the high of Rs 80 per kg in Delhi. A similar trend is seen in other cities as well, traders at Azadpur mandi said. However, potato prices remained stable from the year-ago period. It is currently available in the range of Rs 11-24 per kg in retail markets of metros, the ministry data said. As far as pulses and foodgrains were concerned, the analysis of data revealed that retail prices rose by 15-16 per cent in last one year. In metros, wheat has risen by 20 per cent to Rs 18-26 per kg and rice by 16 per cent to Rs 28-30 per kg during the period under review.
Barring gram dal, prices of tur, urad, moong dal and masoor dal showed an increase of upto 16 per cent in last one year. However, vegetable oil prices have come down marginally in the same period.