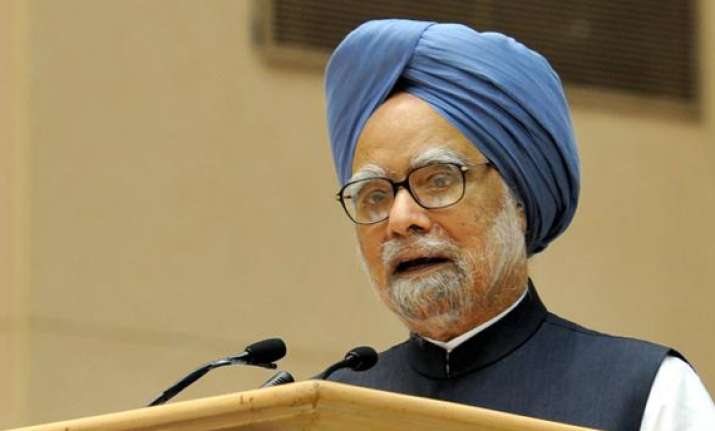 New Delhi, June 7: Facing resistance to various key reform programmes, Prime Minister Manmohan Singh said on Wednesday that "bottlenecks" needed to be removed to reverse the present situation and revive India's growth story as the nation had run into "more turbulent weather".
Taking stock of the infrastructure-related ministries at a meeting, he said there was need to act on multiple fronts and set ambitious targets to boost the economy through involvement of private sector too.
At the meeting, higher targets were set for investments in ports and aviation sectors, power generation, coal production and railway freight carriage for the current financial year.
For the Ports sector, a target of Rs 35,000 crore investment was set for 2012-13, up from Rs 16,585 crore last fiscal.
A target of Rs 8,798 crore was set for aviation sector through PPP mode for 2012-13, an increase from Rs 4,877 crore last fiscal.
It was decided that two new aviation hubs would be created to make India a major transit point.
"We must work to create an atmosphere which is conducive to investment and to removing any bottlenecks to growth. We, as a government, are committed to taking the necessary measures to reverse the present situation and revive India's growth story," Singh told the meeting attended by ministers of power, roads, shipping, civil aviation and coal.
Railway minister Mukul Roy did not attend the meeting. Underlining the pressing need for action, the Prime Minister said, after achieving high growth rate in past eight years, "we are now running into more turbulent weather".
His comments assume significance as a number of reform programmes like FDI in multi-brand retail and aviation and pension sector liberalisation are stuck because of opposition from UPA constituents like Trinamool Congress.
Noting that over $ one trillion would be required in the infrastructure sectors in the next five years, the Prime Minister said the government alone could not invest such huge amount and it was important to involve private sector.
Talking about challenges, Singh said a "flight (of investment) to safety" was taking place globally as international economy was passing through difficult times with Eurozone being the cause of concern all around.
"Then there has been a persistent problem of rising international petroleum and commodity prices in the last few years. Domestically, rising demand, along with supply side bottlenecks have contributed to inflationary pressures," he said, adding "these constitute formidable economic challenge".
With the new targets being set in the infrastructure sectors, the Prime Minister said these are "ambitious and impressive", showing a "significant scale-up over the earlier performances".
The targets would be monitored on quarterly basis. Referring to the civil aviation sector, Singh said work will be awarded on three greenfield airports at Navi Mumbai, Goa and Kannur and new international airports at Lucknow, Varanasi, Coimbatore, Trichy and Gaya.
Also, two new airline hubs will be created at Delhi and Chennai in the current fiscal, "making us a destination as well as a transit point", he said.
The meeting decided that work on Itanagar airport would be commenced with a total investment of Rs 2100 crores by Airport Authority of India.
By the end of next month, additional PPP projects would be finalized for 10-12 existing airports and for 10-12 greenfield airports. These would be awarded during the year.
PPP in airport operations would be explored.
For the ports sector, a target for the year 2012-13 will consist of 42 projects valued at Rs 14,500 crores and a capacity of 244 million tonnes, which is three times higher than that achieved last year.
Two projects for new major ports—East Coast (Andhra Pradesh) and West Bengal—will be taken up during the year with an investment of Rs 20,500 crore and capacity of 116 million tonnes.
The total capacity to be awarded this year will be 360 million tonnes with an investment of Rs 35,000 crores.
In the roads sector, 9,500 kms will be awarded, which is 18.7% increase over last year.
Besides, 4,360 kms of roads will be awarded for maintenance under the OMT (Operate, Maintain, Transfer) system for the first time.
In the railways sector, Dedicated Freight Corridor under PPP mode for the Sonnagar-Dankuni stretch will be awarded in 2012-13. Also an Elevated Rail Corridor in Mumbai will be awarded at a total investment of Rs 20,000 crore.
The concessions for two locomotive manufacturing units at Madhepura and Marhowra will be awarded and redevelopment of 4-5 stations would be done through PPP mode.
A proposal for a High Speed Corridor (Bullet Train) between Mumbai and Ahmedabad will be finalised.
In the power sector, a target of 17,957 MW was set for the current fiscal, including 2,000 MW from Kudankulam atomic power project which is to be commissioned soon after being stuck because of opposition from locals.
For the coal sector, it was decided that Coal India Limited will despatch 470 million tonnes to all sectors, an increase of 8.8%.
Of this, it will dispatch 347 million tonnes of coal to the power sector in 2012-13 against 312 million tonnes despatched last year, which is an increase of 11.2%.