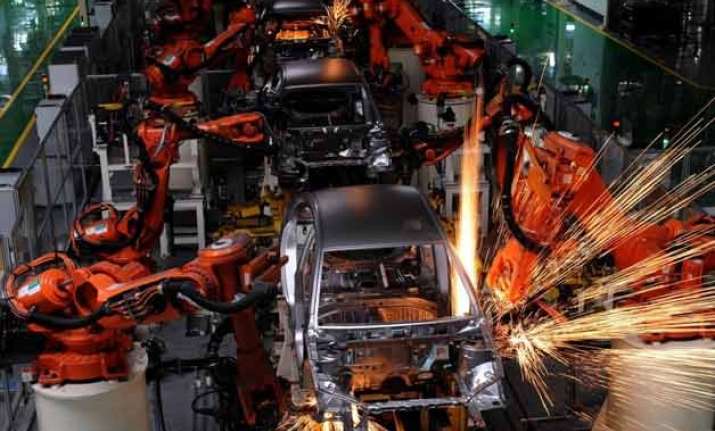 Beijing: China unveiled 'Made In China 2025' campaign, a 10-year national plan to enhance its competitiveness in the manufacturing sector to boost economic growth amid India's push to become a global manufacturing hub.
The blueprint of the plan designed to transform China from a manufacturing giant into a world manufacturing power was approved by central cabinet headed by Premier Li Keqiang, official media reported yesterday.
The move comes as China's factories are struggling with sluggish demand, increasing competition from other developing economies and a slowing domestic economy.
During his visit to China last week, Prime Minister Narendra Modi had said that many Chinese companies have the possibility of investing in India to take advantage of India's potentials.
"The potential lies in manufacturing, processing as well as in infrastructure," he had said.
Officials say in the longer run both 'Make in India' and 'Made In China' are expected to vie for international investments.
The campaign unveiled yesterday is China's first action plan focusing on promoting manufacturing amid the continued to slow down of the economy.
The plan will be followed by another two plans in order to transform China into a leading manufacturing power by the year 2049, which marks the 100th anniversary of the founding of the People's Republic of China, state-run Xinhua news agency said.
Manufacturing In China regarded as the main stay of the economy also slowed down with reports of over capacity. The new plan is expected to focus on technology up-gradation.
Nine tasks which were identified as priorities include: improving manufacturing innovation, integrating technology and industry, strengthening the industrial base, fostering Chinese brands and enforcing green manufacturing.
Other tasks to be prioritised are promoting breakthroughs in 10 key sectors, advancing restructuring of the manufacturing sector, promoting service-oriented manufacturing and manufacturing-related service industries, and internationalising manufacturing.  
The 10 key sectors are new information technology, numerical control tools and robotics, aerospace equipment, ocean engineering equipment and high-tech ships, railway equipment, energy saving and new energy vehicles, power equipment, new materials, medicine and medical devices, and agricultural machinery, the Xinhua report said.
To fulfil the tasks, "Made In China 2025" will focus on major projects, including establishing a manufacturing innovation center and boosting intelligent manufacturing, it said.
To shore up the plan, China will introduce a slew of policies to deepen institutional reforms and strengthen financial support.
The implementation of the "Made In China 2025" plan will be market-oriented, though guided by the government, according to the notice.
Miao Wei, minister of industry and information technology (MITT), said the realisation of the plan means "by 2025 ... China will basically realise industrialisation nearly equal to the manufacturing abilities of Germany and Japan at their early stages of industrialisation".
"There are many criteria to judge whether a country is a manufacturing power or not, including industrial scale, optimised industrial structure, sound quality and efficiency and sustainable development, but the key lies in innovation," according to Li Beiguang, deputy head of MIIT planning division.
To promote manufacturing and national competitiveness, it is important to mobilise every conceivable element to stimulate innovation rather than simply support a single industry, Li said.
Chinese manufacturing accounts for about 20 per cent of the world's total, but it is "far from strong," Li Beiguang.