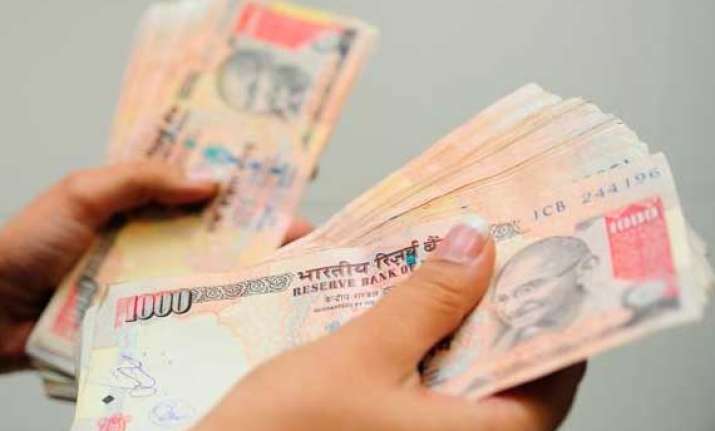 New Delhi, June 11: Mukesh Ambani's Reliance Industries and state-owned ONGC (Oil and Natural Gas Corp) will reap windfall profits from the Indian rupee dipping to an all-time low as they will earn more on selling natural gas in US dollars.
ONGC and RIL bill their consumers like fertilizer plants and power stations in US dollars. So every time the rupee dips against the greenbuck, their earnings go up.
With rupee touching an all-time low of Rs 57.9 to a US dollar, the companies will see rise in their revenues, industry sources said.
At current production of less than 15 million standard cubic meters per day, RIL would get about Rs 43 lakh per day more from rupee decline to Rs 57.9 from Rs 50 to a US dollar.
For ONGC, it would mean over Rs 1.42 crore a day gain on about 50 mmscmd of gas output.
Sources said the windfall to ONGC is courtesy the Oil Ministry, which changed the pricing of domestically produced natural gas from the rupee to the US dollar in 2010.
In May 2010, the ministry had decided that gas produced by ONGC and Oil India should be priced in US dollars when rates were revised to USD 3.818 per million British thermal units (USD 4.2 per mmBtu after including royalty) from Rs 3,200 per thousand cubic metres (equivalent to $1.79).
From 50 mmscmd, ONGC will gain about Rs 522 crore on an annualised basis at the higher exchange rate.
Sources said the windfall that ONGC and RIL is getting is actually being borne by consumers who have to shell out more in electricity rates and fertiliser costs.
This situation as well as a scenario where the rupee hardening hurts ONGC's revenue, could have been avoided if domestic gas was priced at the equivalent of USD 3.818 per mmBtu in rupees, as had been the past practice.
RIL stands to gain Rs 156 crore on production of 15 mmscmd of gas from its eastern offshore KG-D6 fields in a year.
While KG-D6 gas could not have been priced in rupees, as the contract for the field explicitly provides for pricing of the fuel in US dollars, the additional burden on power and fertiliser firms could have been avoided if the proposal from RIL of having a fixed rupee-dollar ratio had been accepted.
RIL, sources said, had in 2007 proposed that the exchange rate could be fixed at Rs 45 to a US dollar while deciding on KG-D6 price. The rupee was trading at around 43 to a dollar at that time and so it was rejected.
It was stated that prevailing exchange rates would be used for the purpose of conversion of the $4.2 per mmBtu price fixed for KG-D6 gas into rupees.
Incidentally, by the time RIL began gas production in April 2009, the rupee had weakened to Rs 45 per dollar.
Sources said besides the gas price, the $0.11 per mmBtu marketing margin charged by state-owned GAIL India for the effort it makes in selling gas produced by ONGC, too, is US dollar-linked.