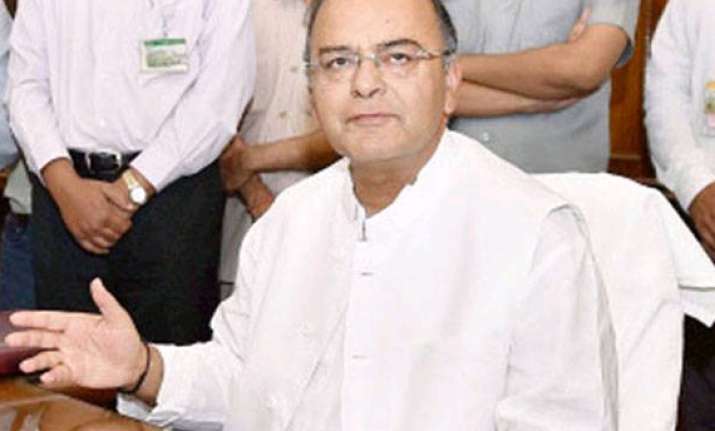 New Delhi: Asserting that profit is not a bad word, government tonight said the low tax regime envisaged in the budget is aimed at boosting economic activity and suggested interest rates for sectors like housing would come down with moderation in inflation.
Finance Minister Arun Jaitley justified the government's decision to further open up sectors like defence and insurance to FDI saying the country required huge amount of resources to speed up development by perking up manufacturing that would lead to job-creation and poverty alleviation.
"When investment from within is inadequate, FDI is an additionality of resource. So, it is essential we have adequate resources, it will lead to economic activity, job creation. Need profitability for economic activity.
"We have reached a stage where profit is not a bad word. Unless there is a profit, there will be no taxes", he said in Rajya Sabha while replying to a debate on the budget as well as demands for grants for various ministeries. The budget and the appropriation bills were passed later.
He underlined that governemnt will not have enough resources to fund social welfare programmes unless there are profits and taxes.
"Let me make a very candid confession, if you say I have helped business, I have no hesitation to be called pro-business. Does it help the middle class? Yes, it does.
Does it help poor, yes it does. There is no contradiction...You need to be pro-industry... (to) service poor," Jaitley said.
Referring to budget proposals, he said the government has made efforts to help the middle class save and spend.
In this regard, he said the government will encourage people to buy their own houses instead of paying rent.
"If inflation moderates and RBI agrees, which I am sure will agree, (government would like) to bring down interest rates... We want to go back to a situation of Vajpayee's time when buying a flat becomes cheaper than taking on rent. So that installments becomes less than rent," he added.
Jaitley sought to allay apprehensions that the real estate sector could burst like a bubble as happened in Japan and Dubai saying those places had reached over-saturation point while in India 60 per cent still lack housing.
On government decision to raise the FDI cap in insurance to 49 per cent, the Finance Minister said it was necessary because there were several sectors like health which is failing to pick up because of lack of proper insurance cover.
He said the proposal to hike FDI in insurance as well as defence was originally that of the previous NDA government which Congress had then opposed.
"Wisdon dawned on you when you assumed power and you tried to raise it," he told the Opposition which accused the NDA government of taking the credit.
Referring to FDI in defence, he said it is far better to have defence equipment manufactured inside the country with 51 per cent Indian ownership than importing 70 per cent of equipment from 100 per cent foreign-owned companies.
"Is it better for national security to buy from foreigner or manufacture here in India"? he said.
Jaitley, who also holds the Defence portfolio, noted that because of this decision, government has decided that 58 transport aircraft for IAF would be manufactured by Indian companies with foreign collaraboration.
"Lot of people who have technology and capacity are willing to come here. Inside the country also there are capacities," the Minister said.
Talking about retrospective taxation, he said it was a "defining moment" for Indian economy as investments dried up after that.
"Retro tax was a retrogade step. It drove investors away.  Investments dried up. During the last phase of UPA, I was hoping against hope that you will untie the knot, but you left it for us to untie and it is a difficult knot to untie," he said.
He stressed that low taxation is good for the economy and he has tried to pursue it in his budget with a view to giving a fillip to manufacturing sector.
Noting that the country is still facing a difficult situation, Jaitley urged the Opposition to keep national security, foreign policy and management of economy out of partisan politics, saying everybody's support will be required for pushing the economic growth back to 8-9 per cent.
"There were difficulties in the last 10 years. The earlier government could have been more decisive. It could have avoided a drift in the policy. It could have taken steps when the economy got hijacked by certain scandals," he said.
He said when India has sub-five per cent growth for two years, it has its impact on job creation, manufacturing sector and tax collection.
"We must have high growth, must allow private sector to grow... We need investment, (though we) can have genuine differences as to which sectors to be opened (to FDI) and which not," the Minister said.
FDI is an additionality of resource, he said adding it is essential to have adequate resources as it will lead to economic activity and job creation.
He also stressed on the need to stop domestic investors moving out. Referring to some recent positive economic data, he said "these are initial indicators. It is from this that we have to pick up".
Jaitley said he is moving on the premise that "low taxation is good because people want to buy goods, not taxes".
Responding to criticism of meagre allocations for different new schemes, he said it was only a "start-up amount" and more budgetary allocations would be made as projects move.
Minister of State for Finance Nirmala Sitharaman said the budget has been prepared under difficult condition but it is a document of hope.