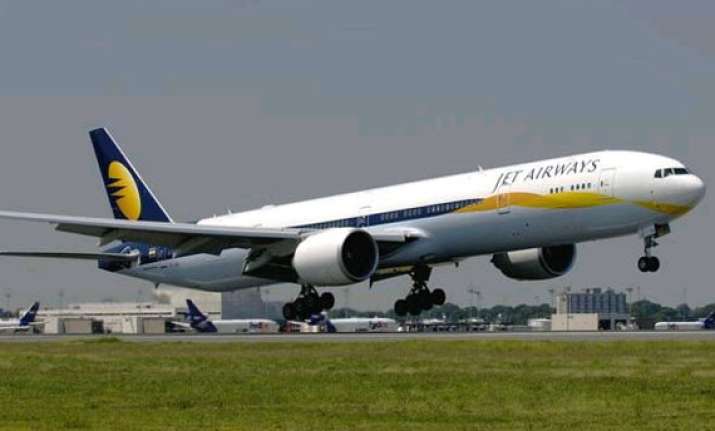 New Delhi: Jet Airways executives are expected to meet the domestic rating agency Icra tomorrow following a downgrade of its debt rating after the airline failed to meet loan repayment schedule.
"It is very disappointing that the recently published Icra downgrade is based on a historic delay in debt servicing, which occurred and was resolved in the previous financial year. Airline representatives will meet the agency on Monday to set the record straight," a Jet Airways spokesperson said in a statement without offering details. There is no outstanding default in the repayment of dues to banks and financial institutions as of March 31, 2014, the spokesperson claimed. 
"Jet Airways can confirm that the airline is current on all its loan obligations and interest payments," the statement added. Icra has categorised the airlines' two long-term and two short-term foreign currency loans valuing Rs 7,460 crore to 'D' rating from the earlier BB rating with a stable outlook. 
The downgraded long-term loans include a term loan of Rs 2,460 crore and a long-term fund-based loan of Rs 750 crore, which have been revised down to D from BB stable. The affected short-term instrument includes a fund-based limit of Rs 1,920 crore, and a non-fund based limit of Rs 2,330, both of which have been downgraded to 'D' from 'A4'. 
"The rating revision reflects delays in debt servicing by the company," Icra said in a statement. However, the agency admitted that Jet is not yet a special mention account. Banks tag a loan account as special mention account if payment remains due continuously for 60 days, forcing the lender to form a group to monitor the account and look at restructuring as one of the options for corrective action. 
The country's third largest airline, which reported a loss of Rs 258 crore in the June quarter of this fiscal, has a total debt of around Rs 9,800 crore, which includes around Rs 6,000 crore of aircraft-related loans while the rest is term loans and working capital borrowings, said Icra. 
"Our recently published first quarter results show a positive trend in performance and that the airline's three- year business plan is on track," said the Naresh Goyal-run airline, which had reported its biggest-ever quarterly loss of Rs 2,153.6 crore in the March 2014 quarter. Last fiscal, the airline, in which Gulf airline Etihad holds 24 per cent stake, had lost Rs 4,129.7 crore, as against Rs 779.8 crore in FY'13. 
According to the airline, it has cut debt from around Rs 10,500 crore to around Rs 9,800 crore by July-end. However, the interest outgo still stands at Rs 1,000 crore.