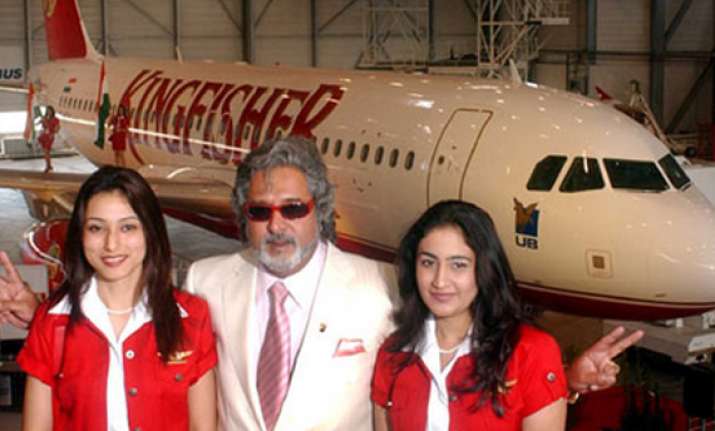 New Delhi, Dec 24: Ailing carrier Kingfisher Airlines On Monday submitted its revival plan to aviation regulator DGCA in a bid to restart limited operations after having remained grounded for almost three months.
"The airline has submitted its revival plan, which we had sought as a precondition for revoking its suspended flying licence," an official of Directorate General of Civil Aviation (DGCA) said.
Kingfisher had a few weeks ago submitted an application for renewal of its flying permit, which is due to expire on December 31. The permit was suspended by DGCA on October 20.
DGCA officials had then said a decision to renew or revoke the suspension of its Standard Operating Permit (SOP) cannot be taken till it submitted a comprehensive financial and operational revival plan, which was given today.
The official, however, did not elaborate on the revival plan of Kingfisher Airlines.
DGCA had on October 20 temporarily suspended the SOP of the Vijay Mallya-promoted carrier following a strike by its pilots and engineers over non-payment of salaries for several months, which completely grounded the fleet.
The cash-strapped airline is yet to pay its staff for seven months now. Mr Mallya told the 17 lenders consortium weeks ago that he was preparing to restart limited operations with a planned fund infusion of Rs 425 crore through internal resources.
"We will restart operations in a phased manner and will provide funding ourselves. We have not asked the banks for any support. We have also shared full recapitalisation plan (with the lenders) which will be further discussed with a small designated group of bankers," the airline had then said.
Kingfisher, which has a debt of nearly Rs 8,000 crore and accumulated losses and liabilities of a similar amount, has been grounded since October after its pilots and engineers went on strike.
After remaining grounded for over three months, Kingfisher had earlier this month applied for the renewal of its operating licence.
Kingfisher has been saddled with a loss of Rs 8,000 crore and a debt burden of another over Rs 7,524 crore.
It was issued an airline licence on August 26, 2003, which was actually in the name of Air Deccan that was bought over by the Mallya-owned carrier.
With DGCA suspending its SoP 19 days after the October one lockout, the airline had stopped all ticket bookings on its entire network as well as through travel agents.
The employees claim that after paying a few instalments of back wages, the airline has once again failed to pay the dues as promised earlier.
DGCA had suspended SoP following the airline's failure to come up with a viable plan "ensuring safe, reliable, efficient and sustainable Scheduled Air Transport Services to the satisfaction of DGCA".
In its notice suspending SoP, DGCA had maintained that the airline had not addressed "any of the issues" raised in its show-cause notice of October 5.