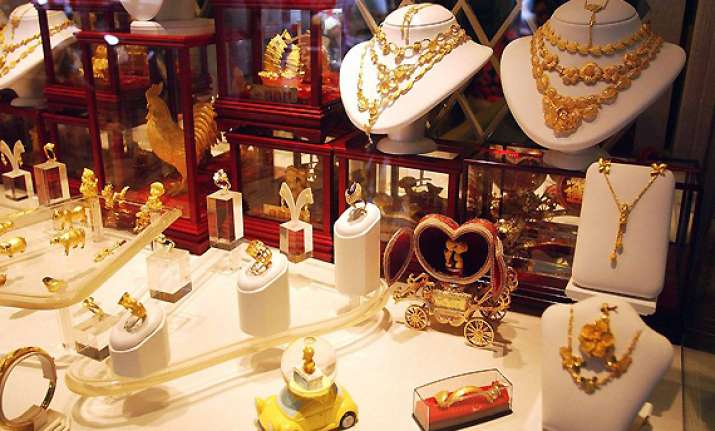 Mumbai, Oct 23: High gold price, ruling at Rs 26,500 per 10 grams, is unlikely to deter jewellery buyers during the days leading to Dhanteras and traders are expecting a robust season with around 30-35 percent spurt in sales.

"We expect jewellery sales to grow up to 35 per cent, especially in the light and medium weight category as well as the coins category," Shree Ganesh Jewellery House Marketing and Communications Head Rahul Singh told PTI here.

Since the past few days, he said, there has been a spike in sales and the prevailing high prices has in fact has boosted the sales.

Last year, Shree Ganesh's three stores alone had generated Rs 6-crore business on Dhanteras, the Hindu festival considered auspicious for buying precious metals, including jewellery, as well as other alloy products like automobiles.  "With 10 stores this year we are expecting about Rs 11-12-crore business," Singh added.

Echoing the view, Gitanjali Group Chairman and Managing Director Mehul Choksi said the demand has been picking up since the past few days and will peak during Dhanteras (which falls on October 24).  "We are expecting about 20-25 per cent growth in terms of volume and up to 60 percent in terms of value," he said.

During the four days leading to Dhanteras, the Gitanjali Group is expecting around Rs 400-crore business compared to Rs 250 crore last year, he said.

Explaining about sales in different categories, Choksi said, he is expecting 15 per cent in coins, 50 per cent in gold jewellery and 35-40 per cent in diamond jewellery.

Talking about demand ahead of the festive season, World Gold Council Managing Director (India and West East), Ajay Mitra said, "With prices stabilising, and Diwali and the wedding season around, demand is sure to see a surge. Demand for gold as an investment option as well as jewellery will rise too."

Meanwhile, considering the positive outlook, the World Gold Council is actively promoting the gold-linked microfinance scheme from Muthoot Fincorp through mass media and below-the-line campaigns.

Apart from retailers, banks like Kotak Mahindra Bank, which also sell coins and medallions, are expecting a sharp spike in demand during the festive season.

"There is a strong demand for gold despite a spurt in gold price in the past six months. At Kotak, we had sold 100 kg of coins during last Diwali season, and we expect sales to be higher by about 20-30 per cent this season," Kotak Mahindra Bank Executive Vice-President Puneet Kapoor said.

There is an appreciation of 35 per cent in gold prices since last Diwali.

Kotak Mahindra Bank sells coins in five denominations - 5, 8, 20, 50 and 100 grams.

"During last Diwali, we sold 47 per cent of 5 gm coins followed by 25 per cent of 20 gm, 21 per cent of 8 gm and rest in 50 gm and 100 gm and we expect the same proportion this season as well," he said.

However, Bombay Bullion Association President Prithviraj Kothari is apprehensive about the scenario and said the business may be about 30 per cent less than last year.

"With high inflation there is hardly any money left with people to invest in gold. I fear that this year jewellery sales may be 20-30 per cent lower than last year as people are preferring consumer durables suiting their budget," he pointed out.