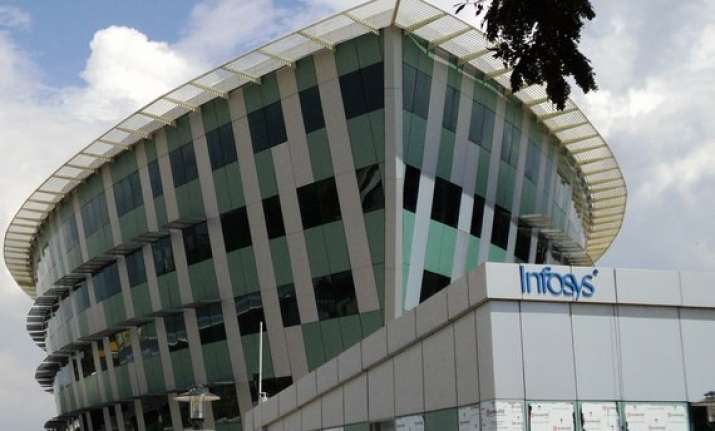 New Delhi: Shares of Infosys surged nearly 6 per cent on Friday following the announcement that its Q2 numbers had beaten expectations. Net profit for the quarter was up 7.2% at Rs 3,096 crore.
At 11:20 am, Infosys' shares were trading at with 5.82 per cent gains, or Rs 211.45, at Rs 3,858.10.
Earlier, Infosys posted 28.6 per cent jump in consolidated net profit to Rs 3,096 crore for the quarter ended September 30. The Bangalore-based firm had reported a net profit of Rs 2,407 crore in the year-ago period, it said in a BSE filing.
Consolidated revenue was up 2.9 per cent to Rs 13,342 crore in the said quarter from Rs 12,965 crore in the year-ago period.
Here are the highlights:
Infosys declared an interim dividend Of Rs.30/share
FY15 dollar guidance has been maintained at 7-9 percent
Quarter on quarter growth was 7.3 per cent while Year-on-Year growth was 28.7 per cent.
Consolidated revenue rose 4.4% to Rs 13,342 crore from Rs 12,770 crore in the previous quarter.
Infosys added 49 clients (gross) during the quarter against 61 in the previous quarter.
Earnings per share (EPS) was Rs 54.19 for the quarter ended 20 September, 2014
Gross employee addition stood at 14,255
Utilisation Rate excluding trainees rose to 82.3% Vs 80.1% in the previous quarter
Utilisation rate including trainees at 75.2% Vs 74.8% QoQ
Attrition rose to 20.1% against 19.5 percent in previous quarter
Infosys Q2 EBIT margin at 26.1% vs 25.14% QoQ