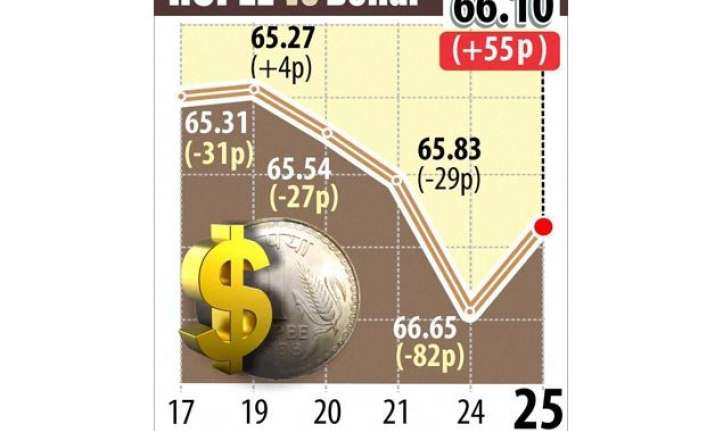 New Delhi:  A day after market bloodbath on Monday, the Indian rupee made a dramatic recovery gaining 54 paise or 0.81 percent  to close at 66.10 per dollar.
In intraday trade, the rupee gained as much as 77 paise or 1.1 per cent to 65.87 per dollar, its biggest gain in nearly two years.
Traders said that the Indian rupee  bounced back  after the Chinese central Bank cut its benchmark interest rates and reduced the amount of cash banks must keep on hand.
The People's Bank of China (PBOC) announced on Tuesday a cut in the reserve requirement ratio (RRR) and lower key interest rates.
From September 6, it will cut the RRR for financial institutions by 50 basis points, Xinhua news agency reported.The RRR for financial leasing companies and auto financing companies will be lowered by 300 basis points, PBOC announced.
Benchmark interest rates will also be cut. From Wednesday, interest rates for one-year lending and deposits will be cut by 25 basis points to 4.6 percent and 1.75 percent, respectively, the bank said.
Global markets rebounded Tuesday after China's central bank cut its key interest rate to support growth in the world's second-largest economy. Earlier, China's main stock index closed sharply lower for a fourth day.
European markets recovered almost all their losses from Monday, with most rising at least 4 percent, while U.S. stocks were expected to open higher and oil prices traded higher.