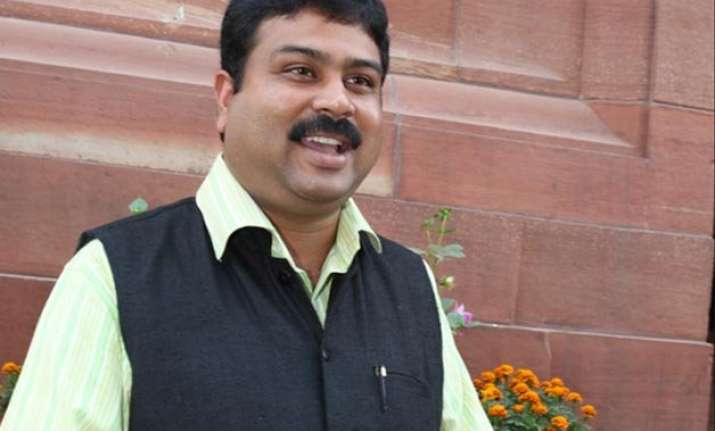 New Delhi: International oil prices will come down with the imminent lifting of sanctions against Iran and benefit India, Petroleum Minister Dharmendra Pradhan said today.
"With Iran coming to market, the assumption is that there will be further slide in oil prices... India will be one of the beneficiaries of sliding oil prices," he said.  India is the world's fourth largest oil consumer and also the second biggest buyer of Iranian oil after China, importing about 11 million tonnes of crude oil in 2014-15.  
However, Pradhan remained non-commital on whether India will increase imports from Iran after restricting it at 11 million tonnes in the past two fiscal.  "Let's see. It (increasing imports) depends on a lot of commercial considerations," he said. "But one thing is sure, oil prices (in international market) will be reasonable. I believe prices will be reasonable and responsible."
The slide in oil prices may, however, put some pressure on exploration and production (E&P) business due to low returns, he said here at an industry event while adding this was "a challenge."
As per the deal, sanctions imposed by the US, European Union and United Nations will be lifted in return for Iran agreeing long-term curbs on a nuclear program that the West suspected was aimed at creating a nuclear bomb.
However, the sanctions on Iran will remain in place at least until United Nations monitors report on the country's compliance with the deal in December. Also the deal has to be ratified by the US Congress within 60 days.
This means Iran may take until next year to bolster crude exports. Its exports may double to 400,000 barrels per day in  2016 production and will likely expand the following year,  according to Goldman Sachs.
India spent USD 112.7 billion on import of crude oil for meeting about 79 per cent of its need in 2014-15.  Pradhan said with Iran rejoining OPEC, there is likely to be a "reduction in production" by the oil cartel. However, some countries outside OPEC have started producing substantially.
"With Iran's participation, there will be two very important things happening. First, viability of E&P fields will be a challenge. Secondly, there is a tentative prediction of further slide in oil prices," he said.  Consumers in India will benefit from the slide in oil prices, he said.
Benchmark Brent crude has fallen about 45 per cent in last one year amid speculation that a global glut will persist.
With the easing of sanctions, India will make renewed pitch for rights to develop ONGC-discovered Farzad-B gas field in the Persian Gulf and will prepare to pay USD 6.5 billion in past oil dues.
Indian firms have so far shied away from investing in Iran for the fear of being sanctioned by the US and Europe.  The same was deterring New Delhi from claiming rights to invest nearly USD 7 billion in the biggest gas discovery ever made by an Indian firm abroad.
New Delhi will seek rights to develop 12.8 trillion cubic feet of gas reserves ONGC Videsh Ltd had found in 2008, officials said.
Lifting of sanctions would also mean opening of banking channels and with that oil refiners having to clear USD 6.5 billion in past dues on purchase of Iranian oil.  
Since February 2013, Indian refiners like Essar Oil and Mangalore Refinery and Petrochemicals (MRPL) have been paying in rupees to UCO Bank 45 per cent of their payment due on purchase of crude oil from Iran.
The remaining has been accumulating, pending finalisation of a payment mechanism. They had last year paid nearly USD 3 billion in six instalments through a limited payment channel following start  of nuclear talks between the West and Iran.
The outstanding  has since climbed to nearly USD 6.5 billion. Of this, Essar  Oil owes about USD 3.5 billion and MRPL USD 2.5 billion. The rest USD 500 million is to be paid by Indian Oil Corp .