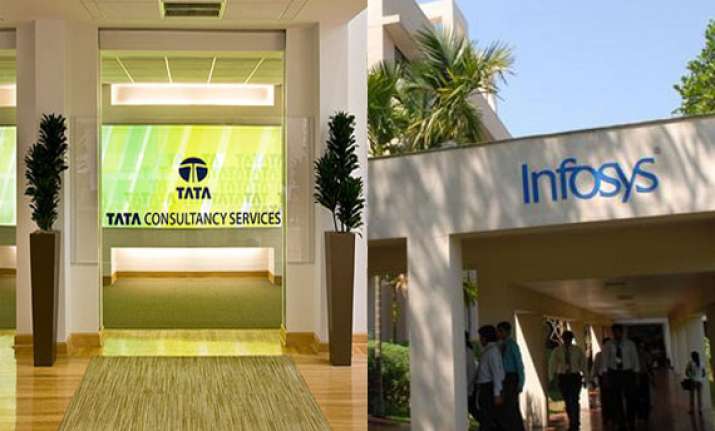 New Delhi: India's IT industry which grew from nothing to $100 billion in 20 years ago, is perceived to be passing through a tough phase given the declining margins amid global economic uncertainty. The IT and allied services sector, has gained scale and prominence through on-time project delivery, deep domain knowledge, and solidified reputation for delivery of complex business-centric IT projects.
The Indian IT industry has achieved a phenomenal growth of an estimated $ 108 billion in 2013 from an $8 billion in 2000. The industry took advantage of the vast pool of highly skilled resources available at low cost, and rode on the wave of application development and BPM services to spread its wings.
According to a CII report, newer technologies such as social media, analytics and cloud computing (SMAC) will help India's IT-BPO industry cross $225-billion-mark in revenues by 2020.
Wondering which are the best IT companies? Here is the list:
1. TCS

Revenue: 48426.14 Cr
Tata Consultancy Services (TCS) is one of the largest provider of information technology (IT) services, business solutions and consulting company headquartered in Mumbai. At present, TCS has about 2,76,000 employees across the globe. After the recent rally in its stock price, Tata Consultancy Services (TCS) is now the world's second-most-valuable IT services company — ahead of Accenture and Hewlett-Packard but behind IBM.
The Indian firm is currently valued at around $60 billion, compared with Accenture's $50.5 billion and HP's $43 billion. TCS, which accounted for nearly 47 per cent of the IT industry's combined market cap and nearly four-fifths of the total net profit of listed IT companies on the BSE-500 index last financial year, is miles ahead of its Indian peers. Five years ago, the company accounted for 28 per cent of the total market capitalisation of the IT industry. Analysts attribute TCS' success to its execution capability and its wide presence in key geographies.