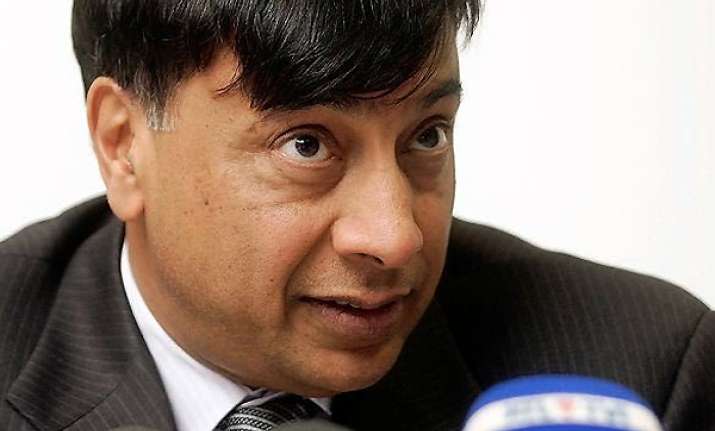 New Delhi, Apr 29: With his steel projects making little progress in India, steel tycoon Lakshmi N Mittal today said the nation remains on priority list for his company, ArcelorMittal, but may have slipped low down on its investment list with focus shifting to projects in Canada and Brazil.
"India is clearly on our priority list but it may be very low in our investment list. It depends on progress of the project, how we see things in 5 years," Mittal, Chairman of ArcelorMittal, the world's biggest steel, said here.
ArcelorMittal has so far been able to acquire only 1,800 acres out of 2,800 acres of land required for its proposed Rs 30,000 crore, 6 million tonnes a year Karnataka steel project.
Its plans to build two mega steel mills of 12 million tonne capacity each in Jharkhand and Odisha, too, haven't seen much progress.
If projects don't make progress, investment will slow down, he said. "If a project is not making progress, we will not be investing. We have a very rigorous capital allocation system in the company," Mittal said.
ArcelorMittal, he said, had emerging markets like India on top of its priority list "but when it comes to investment, if we do not see progress, it goes down in the list of allocation".
Mittal, however, is not giving up on Indian investments yet. "I am not giving up now. No, I am not giving up.  "I am little bit concerned. I feel bad. My country is not making progress. We cannot never ignore India, the future is here," he said.
ArcelorMittal, he said, was investing in brownfield expansion in steel and mining in Canda, Liberia and Brazil.
Asked about the progress of the three projects, Mittal said the status has less meaning because all approvals need to come in symphony for a project to take off.
"My people are spending so much here. We have an office. They have to be worried. Because if they don't get approval, capital allocation will not come from the group," he said.
Mittal said in the absence of approvals for his projects, the company would be investing in nations like Canada, Liberia and Brazil.
"I may be unhappy about it, but where you cannot control, you have another project (to invest)," he said, adding his company prioritises investments based on return on capital.
"Today, we are investing in Canada, we continue to invest in Liberia and we continue to invest in Brazil," he said.
Asked if ArcelorMittal was exploring any other project other than the ones proposed in Karnataka, Jharkhand and Odisha, he said: "No. We don't what to do too many things."
"ArcelorMittal is a large organisation. We continue to explore projects in different countries. We put it in the same scale. For me, numerous projects are going on. India is one of the countries where two-three initiatives are going on. We continue to work on various initiatives, some may be fruitful, some may not," he said.
Asked if his success lay in his patience, Mittal said: "My success lies in giving returns to shareholders. We have to do what is right for our stakeholders."
Mittal said brownfield expansion or raising capacity of a already existing project, was easier because the plant already has a basic approval.
While in case of brownfield expansions like those done by Tata Steel, approvals are not in front of the cart but in case of ArcelorMittal, approvals are in front of the cart.